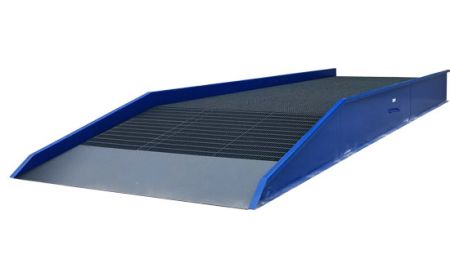 Beacon

®

Truck Lift Ramps

Truck Lift Ramps are designed to cover the width of the dock door. Features a long level platform, raising box trucks and vans to a level surface meeting the loading dock height, filling the height gap creating a smoother transition.

Call for custom quote for your application

See chart below and click a model number
---
Product Details
Construction: Heavy duty steel construction built for years of service.
Service Range: The units are available in different heights ranging from 6" to 24", meeting the requirements of different dock heights for different trucks and vans.
Overall Width: The single unit is available from 84" to 144' overall width servicing a wide variety of trucks and vans.
Note: No hydraulics or motors to service, Maintenance free.
Capacities: Different modles are available in a range of 20,000 lbs. minimum to 80,000 lbs per ramp.
Standard: Truck Lift Ramps are designed with run off 6" fall protection safety curbs.
---
Truck Lift Ramps

Model No.
Width
Height
Length
Capacity
Price
1) BTLR
$Call
PROP 65 WARNING
Products on this page may lead to cancer or reproductive harm.
TM
Call Beacon:
800-454-7159