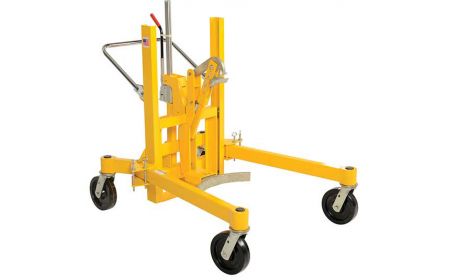 Beacon

®

BDCR Series

Barrel Dolly is uniquely designed to lift and move plastic, steel, and fiber drums with a top lip. For transport security, the steel jaws securely grips to lock the top lip of the drum. The straddle legs are designed to rotate for access for drums on pallets.

See chart below and click a model number
---
Product Details
Construction: These units feature all welded steel construction.
Service Range: Models have a jaw service range from 27" to 74".
Power: Optional DC-powered models are available.
Color: Barrel Dolly models are powder coated with a Beacon safety yellow finish.
Weight: Units weigh between 170 and 250 lbs. The optional scale adds 70 lbs. to the overall weight.
Operation: Models are available in either a manual mechanical ratchet or a foot pump hydraulic lift mechanism. The units roll on four 8" x 2" phenolic casters.
Capacity: Units feature a 1,500 lb. capacity.
Standard: This series rolls on four 8" x 2" glass-filled casters. The push handle is able to fold down to allow access to the ratchet and foot pump.
Options: An optional weight scale is available for this Barrel Dolly BDCR series. The scale allows users to weigh drums within an accuracy +/- 0.5 lbs. and includes an AC adaptor and 6 D batteries.
Surcharge: Tariffs or surcharges may apply to current published pricing.
---
Barrel Dolly - BDCR Series

Model No.
Jaw Service Range
Capacity (LBS)
Operation
Price
1) BDCR-880-M
31" to 46½"
880
Hand Ratchet
$1,187.96
2) BDCR-880-H
31" to 48½"
1,500
Foot Pump
$1,353.84
3) BDCR-880-H-HP
31" to 72"
880
Foot Pump
$1,480.68
4) BDCR-880-H-DC
31" to 48½"
1,500
DC Powered
$3,721.40
5) BDCR-880-H-HP-DC
27" to 74"
880
DC Powered
$3,849.85

OPTION

Model No.
Description
Accuracy
Capacity (LBS)
Batteries
Adaptor
Price
6) BDCR-SCALE
Optional Drum-Weighing Scale
+/- 0.5 lbs.
1,500
(6) D Cell Batteries
AC
$1,945.13
PROP 65 WARNING
Products on this page may lead to cancer or reproductive harm.


Complementary Products: For drum-hoisting equipment, please see the Beacon Vertical Drum Lifter.


TM
Call Beacon:
800-454-7159