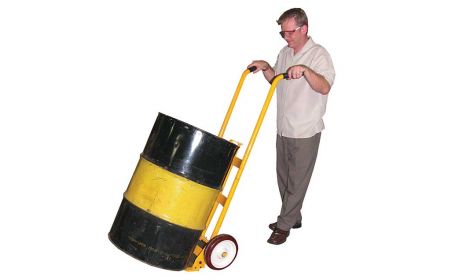 Beacon

®

BDBT-SA Series

The Drum Hand Truck with spring assist is made specifically to transport 55-gallon drums. The spring mechanism enables more efficient tilting of fully loaded drums. This series also features a removable hook bar that includes built-in bung nut wrenches. Units are specifically designed to transport steel drums (BDBT-SA-MR and -PO) or plastic drums (BDBT-P-SA-MR and BDBT-P-SA-PO).

See chart below and click a model number
---
Product Details
Construction: Unit is constructed of heavy-duty steel and has a powder coat yellow finish.
Color: Drum Hand Truck models are powder-coated Beacon Yellow.
Weight: Models weigh between 58 and 67 lbs.
Standard: Drum Hand Truck units come standard with either mold-on-rubber or poly-on-steel 10" x 2-1/2" casters.
Surcharge: Tariffs or surcharges may apply to current published pricing.
---
Drum Hand Truck - BDBT-SA Series

Model No.
Overall Size
Wheel Type
Drum Types
Price
1) BDBT-SA-MR
23½"x14½"x61"
Mold-On-Rubber
Steel
$399.76
2) BDBT-SA-PO
23½"x14½"x61"
Poly-On-Steel
Steel
$407.89
Model No.
Overall Size (W x L x H)
Capacity (LBS)
Wheel Type
Price
3) BDBT-P-SA-MR
23½"x22"x62¼"
Mold-On-Rubber
Plastic
$454.14
4) BDBT-P-SA-PO
23½"x22"x62¼"
Poly-On-Steel
Plastic
$467.19
PROP 65 WARNING
Products on this page may lead to cancer or reproductive harm.
TM
Call Beacon:
800-454-7159