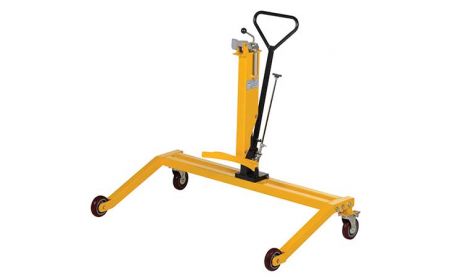 Beacon

®

BPSDT Series

The Drum Palletizer is designed to allow one worker to easily lift and transport drums that are sitting on the center of pallets or the edge of containment skids. These units work with both 30 and 55-gallon drums made from fiber, plastic, or steel.

See chart below and click a model number
---
Product Details
Construction: This series features heavy-duty steel construction.
Size: Units are 41-5/16" wide x 32" deep x 47" high. The retracted leg inner width is 41-5/16"; the extended leg inner width is 40".
Service Range: This unit features a lowered height of 35-3/4" and a raised height of 46-3/8".
Power: Each Drum Palletizer unit is painted Beacon yellow.
Weight: 115 lbs.
Operation: This equipment is operated by engaging barrels with a rim clamp to grasp the top lip.
Capacity: 550 lbs.
Standard: This Drum Palletizer series features two rigid and 2 swivel polyurethane casters. Each swivel caster features a guard as well as brakes.
Surcharge: Tariffs or surcharges may apply to current published pricing.
---
Drum Palletizer - BPSDT Series

Model No.
Accommodates
Overall Size (W x D x h)
Lowered Height
Raised Height
Retracted Leg Inner Width
Extended Leg Inner Width
Capacity (LBS)
Price
1) BPSDT
30 and 55 Gallon Steel, Plastic, and Fiber Drums
41-5/16"x32"x47"
35¾"
46⅜"
41-5/16"
40"
550
$813.61
PROP 65 WARNING
Products on this page may lead to cancer or reproductive harm.
TM
Call Beacon:
800-454-7159