Contractor Edge of Dock Leveler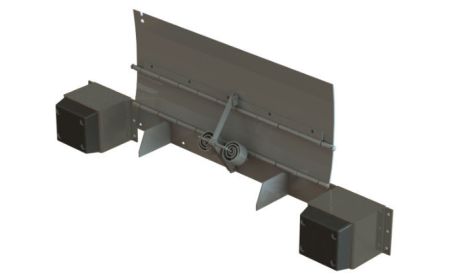 Beacon

®

BEDE Series

The lift hook Contractor Edge of Dock Leveler compensates for uneven heights between dock and truck. This is commonly used in trucking terminals. This unit is one of the original and most economic EOD levelers designed. The BEDE series Contractor Edge of Dock Leveler requires approximately 80 lbs. of lifting force with the hook to engage.

See chart below and click a model number
---
Product Details
Construction: This unit is constructed with a 2" distribution bar and two gussets.
Size: This series features deck widths of 66" and 72". All models have a span of 27-3/4".
Operating Range: Features 5" above and 5" below the loading dock as operating range.
Installation: Dock heights of 48" to 52" are required for the installation of the Contractor Edge of Dock unit to properly service a tractor trailer.
Color: Finish - Enamel base gray paint.
Capacities: Models are available in capacities of 20,000 and 25,000 lbs.
Standard: Each Contractor Edge of Dock Leveler unit comes standard with a 15" hinged lip and dock bumpers.
Surcharge: Due to supply chain disruption, inflation or material shortages - tariffs or surcharges may apply to current published pricing. Some longer lead times may be incurred.
Note: There is no pit work required. The units simply weld to the building 8" imbedded channel or to the optional formed angle and approach plate.
---
Contractor Edge of Dock Leveler - BEDE Series

Model No.
Capacity
Span
Overall Width
Deck Width
Note
Price
1) BEDE-6620M
20,000 lbs.
27¾"
104"
66"
A
$2,042.26
2) BEDE-7220M
20,000 lbs.
27¾"
110"
72"
A
$2,171.73
3) BEDE-6625MH
25,000 lbs.
27¾"
104"
66"
A
$2,132.05
4) BEDE-7225MH
25,000 lbs.
27¾"
110"
72"
A
$2,244.81
Notes:
A: Requires approximately 80 lbs of lifting force with the hook to engage the leveler.

PROP 65 WARNING
Products on this page may lead to cancer or reproductive harm.
TM
Call Beacon:
314-487-7600