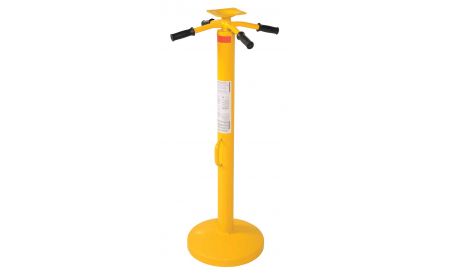 Beacon

®

BSJ Series

Trailer Stand - Dock Trailer Stabilizing Jack helps support the front end of a semi trailer during loading and unloading when no tractor is coupled to the trailer. This jack stand is available with or without wheels and either a round or flat base.

See chart below and click a model number
---
Product Details
Construction: These models feature all-steel construction.
Service Range: Models have a service range of 44" to 51" or 41" to 57-1/2".
Color: Models are powder coated Beacon safety yellow and feature a reflective collar for added safety during nighttime use.
Weight: Units weigh 45 or 60 lbs.
Operation: These models have a spin top for height adjustment. It is not recommended to use this series on an incline.
Capacity: This series features a static capacity of 50,000 lbs. and a dynamic lifting capacity of 5,000 lbs.
Standard: Model BSJ-35 has a round base and no wheels. Model BSJ-40 has a flat base and no wheels. Model BSJ-35-EF features two 8" hard rubber wheels for portability.
Options: Replacement parts and optional safety signs are available.
Limited Warranty: This series has a 30 day limited warranty from date of shipment.
Materials: This Trailer Stand unit includes a heavy 3" tube welded on a dome-shaped, 14"-diameter base for maximum leveling stability. Steel collar welded to steel tube and inserted into a 1-1/2" diameter cold rolled steel screw with acme thread.
Surcharge: Due to supply chain disruption, inflation or material shortages - tariffs or surcharges may apply to current published pricing. Some longer lead times may be incurred.
Note: OSHA 1910.178 (k) (3) - "Fixed jacks may be necessary to support a semi trailer and prevent upending during the loading or unloading when the trailer is not coupled to a tractor."
---
Trailer Stand - BSJ Series

Model No.
Description
Static Capacity (LBS)
Lifting Capacity (LBS)
Service Range
Wheel Size & Type
Note
Price
1) BSJ-35
Economy-Round Base
50,000
5,000
44" to 51"
None
A
$254.33
2) BSJ-40
Economy-Flat Base
50,000
5,000
44" to 51"
None
A
$288.29
3) BSJ-35-EF
Economy
50,000
5,000
41" to 57"
8" Hard Rubber
$366.08
Notes:
A: May ship via UPS

PROP 65 WARNING
Products on this page may lead to cancer or reproductive harm.
TM
Call Beacon:
314-487-7600