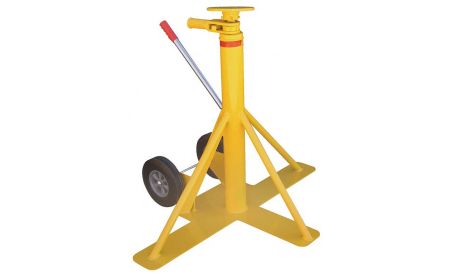 Beacon

®

BFSJ Series

Trailer Stabilizing Jack - Truck Trailer Stabilizers assist in greater side movement support of a truck. These units can also be used to level trailers on sloped ground and can prevent landing gear from sinking into soft ground. The unit is supplied with two 10" hard rubber for mobility at the loading dock.

See chart below and click a model number
---
Product Details
Construction: Models are constructed of high-strength steel.
Size: This series features an overall width of 48", an overall length of 35-7/16", a height of 39", and a removable handle length of 20". An 8-inch top cap is included.
Service Range: This unit has a service range from 39-1/2" to 51" or from 39" to 51".
Color: This series is powder coated Beacon safety yellow. Also includes a reflective band for visibility at night. An optional blue handle and blue wheels are available.
Weight: These units weigh either 125 or 177 lbs.
Operation: The height adjustment is manually done by the dock worker utilizing the 2" diameter screw two-way ratchet design. It is not recommended to use these products on an incline.
Capacity: This series features a static capacity of 100,000 lbs. and a lifting capacity of either 40,000 or 50,000 lbs.
Standard: OSHA 1910.178 (k) (3) - "Fixed jacks may be necessary to support a semi trailer and prevent upending during the loading or unloading when the trailer is not coupled to a tractor."
Options: Optional safety signs are available. Replacement Trailer Stabilizing Jack parts are available; call factory.
Limited Warranty: The unit has a 30 day limited warranty from date of shipment.
Surcharge: Due to supply chain disruption, inflation or material shortages - tariffs or surcharges may apply to current published pricing. Some longer lead times may be incurred.
---
Trailer Stabilizing Jack - BFSJ Series

Model No.
Description
Static Capacity (LBS)
Lifting Capacity (LBS)
Service Range
Wheel Size & Type
Price
1) BBFSJ-2748
Big Foot Stabilizing
100,000
40,000
39½" to 51"
10" Hard Rubber
$760.59
2) BBFSJ-2748-100
Big Foot Stabilizing
100,000
50,000
39" to 51"
10" Hard Rubber
$852.05
PROP 65 WARNING
Products on this page may lead to cancer or reproductive harm.
TM
Call Beacon:
314-487-7600