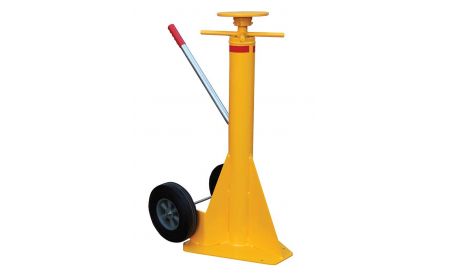 Beacon

®

BSP Series

The Tractor Trailer Stands - Dock Stabilizing Trailer Jack helps prevent semi-trailers from upending when they are detached from their tractor during unloading and loading procedures. This series meets OSHA regulations at the loading dock when used with wheel chocks. This unit includes two 10" hard rubber wheels, enabling it to be deployed quickly.

See chart below and click a model number
---
Product Details
Construction: Each unit features heavy-duty steel construction.
Service Range: The BSP-TOP and BSP-TOP-100 have a service range from 39-1/2" to 51". The BSP-TOP-R unit has a service range from 41" to 50".
Installation: Units are set in place by a loading dock worker.
Color: Models are powder coated Beacon safety yellow with a reflective collar.
Weight: Models weigh 110, 115, or 160 lbs.
Operation: The height of the BSP-TOP-R model is adjusted manually with a heavy-duty ratcheting mechanism. The BSP-TOP model's height is adjusted by a 8" spin top screw head. It is not recommended to use these models on an incline.
Capacity: Models have a static capacity of 100,000 lbs. and a lifting capacity of either 40,000 or 50,000 lbs.
Options: Replacement parts for Tractor Trailer Stands are available, call factory. Optional safety signs are available.
Limited Warranty: 30 day limited warranty from date of shipment.
Surcharge: Due to supply chain disruption, inflation or material shortages - tariffs or surcharges may apply to current published pricing. Some longer lead times may be incurred.
Note: OSHA 1910.178 (k) (3) - "Fixed jacks may be necessary to support a semi trailer and prevent upending during the loading or unloading when the trailer is not coupled to a tractor".
---
Tractor Trailer Stands - BSP Series

Model No.
Description
Static Capacity (LBS)
Lifting Capacity (LBS)
Service Range
Wheel Size & Type
Price
1) BSP-TOP
Spin Top
100,000
40,000
39½" to 51"
10" Hard Rubber
$394.29
2) BSP-TOP-100
Spin Top
100,000
50,000
39½" to 51"
10" Hard Rubber
$457.73
3) BSP-TOP-R
Ratchet
100,000
40,000
41" to 50"
10" Hard Rubber
$432.39

OPTION

Model No.
Description
Price
4) BSJS-1012
Aluminum Trailer Jack OSHA safety sign
$37.07
PROP 65 WARNING
Products on this page may lead to cancer or reproductive harm.
TM
Call Beacon:
314-487-7600