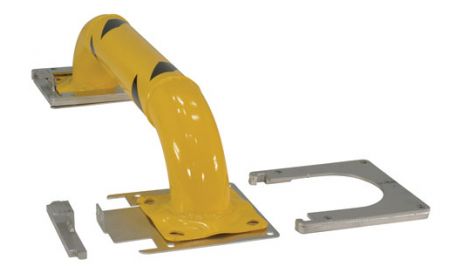 Beacon

®

BLPRO-RF

This Removable Machine Guard has a surface mounted steel base plate which allows the user to remove the bollard quickly and efficiently.

See chart below and click a model number
---
Product Details
Construction: Removable Machine Guard features welded steel construction for durable protection.
Size: Overall height of each model ranges from 9", 16", 24", 36" and 42".
Overall Width: The outside diameter measures 4-1/2".
Installation: Steel base plates are bolted to the concrete in place for a secure installation.
Weight: Models weigh between 52 lbs. and 92 lbs.
Usage: May be used either indoors or outdoors.
Operation: Unit is easily inserted into base plates then secured in place.
Standard: Base plate includes (4) pre-drilled mounting holes for easy installation of the Removable Machine Guard.
Options: A padlock maybe added to prevent unauthorized removal.
Surcharge: Tariffs or surcharges may apply to current published pricing.
---
PROP 65 WARNING
Products on this page may lead to cancer or reproductive harm.
TM
Call Beacon:
800-454-7159