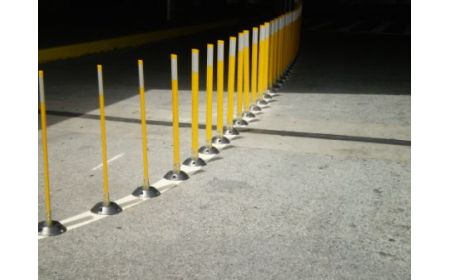 Beacon

®

BVGLT Series

The hard-wearing Delineator Post can be used in any traffic environment as a visual aid. These heavy duty, bi-directional, high impact Parking Bollards are made of a UV-stabilized, copolymer extrusion. Surface mounted post features a hinged, self recovering design.

See chart below and click a model number
---
Product Details
Construction: Delineator Post complete unit includes a four part assembly: (1) post and hinge (2) the base (3) the grips (4) the pin. Mounting hardware not included. Any damaged part, except the base, can be replaced easily and fast.
Size: These models are available in heights of 24", 36", and 48" tall.
Installation: Suitable for hi-traffic and hi-impact locations. Designed for easy and quick installs on most hard surfaces including but not limited to concrete, asphalt, or wood. Hardware by others, using lag bolts, butyl rubber, epoxy, or nails.
Color: Units are available in Yellow, White, Orange, Red, Green, Blue, Brown and Gray. The posts are colorfast with an essential convex surface to accommodate a 3" wide reflective sheeting on both sides to meet DOT specifications.
Scope: Designed to make the roadway three dimensional. With the ever increasing traffic flow, our roadway has demanded a more visual experience and therefore has grown from a two dimensional to a three dimensional entity.
Operation: FAA approved for the use on airport runways.
Capacity: Units intact for up to 340 vehicle impacts at 30 mph, over 75 impacts at 55 mph and many at 80 mph.
Standard: Contains a minimum of 51% (by weight) post consumer recycled material.
Options: An optional repair kit is available, allowing for quick and fast repair. Another Delineator Post option allows the ground driven post to be mowed over by a standard DOT flail or sickle mower (special attachment required).
Materials: The top portion of the post is made of polycarbonate material which shall be resistant to impact, ultraviolet light, ozone, hydrocarbons and is self-erecting after withstanding vehicle impacts. Polycarbonate post remains stable from -150 deg. F. (brittle point) to 285 deg. F. (melting point).
Surcharge: Tariffs or surcharges may apply to current published pricing.
---
Delineator Post - BVGLT Series

Model No.
Height Above Grade
Color
Price
1) BVGLT-16-2F-Y
24"
Yellow
$75.37
2) BVGLT-16-3F-Y
36"
Yellow
$87.47
3) BVGLT-16-4F-Y
48"
Yellow
$103.79
4) BVGLT-16-2F-W
24"
White
$75.37
5) BVGLT-16-3F-W
36"
White
$87.47
6) BVGLT-16-4F-W
48"
White
$103.79

ACCESSORY - Highway Delineator Reflective Sheeting

Model No.
Description
Size (W x H)
Color
Price
7) BVGLT-RT-W
One fits per side of stake
3"x6"
White
$5.13
8) BVGLT-RT-T
One fits per side of stake
3"x6"
Yellow
$3.67
9) BVGLT-RT-O
One fits per side of stake
3"x6"
Orange
$5.13
PROP 65 WARNING
Products on this page may lead to cancer or reproductive harm.
TM
Call Beacon:
800-454-7159