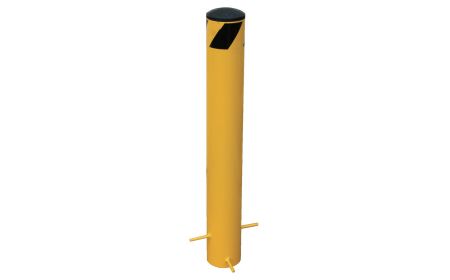 Beacon

®

BBOLPP Series

This long-lasting Bollard Post safeguards personnel and work areas, both indoors and outdoors. These Traffic Bollards are designed specifically to be both set in and filled with concrete, enabling them to become permanent protective fixtures with maximum strength and durability. These steel models are extra long, allowing them to stand at optimum height after their bottom portion has been set in concrete.

See chart below and click a model number
---
Product Details
Construction: Bollard Posts are constructed of heavy-duty steel.
Size: These models feature overall heights ranging from 35" to 58-1/2" and usable heights ranging from 25-" to 48-1/2". All models have an outside diameter of 5-1/2".
Installation: This unit can be installed in new concrete or installed in pre-existing concrete by core drilling.
Color: The units are powder coated safety yellow for maximum visibility.
Weight: Models weigh from 44 to 88 lbs.
Standard: These Bollard Post units feature welded anchoring tabs on their bottom portion, helping to ensure that they remain permanently and securely anchored in the concrete. A removable cap allows the concrete to be poured in.
Surcharge: Tariffs or surcharges may apply to current published pricing.
---
PROP 65 WARNING
Products on this page may lead to cancer or reproductive harm.
TM
Call Beacon:
800-454-7159