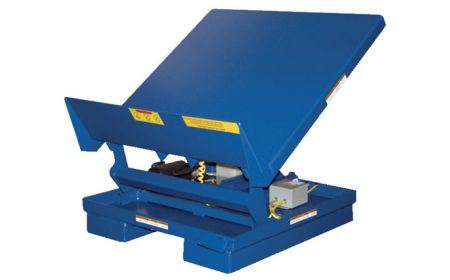 Beacon

®

BUNI-P Series

This production Portable Tilt Table enables workers to decrease the risk of injury and increase lifting efficiency, reducing potential harm to workers and items. This Mobile Tilt Platform is the ideal ergonomic solution for working spaces where repetitive motions are necessary.
---
Product Details
Construction: Move this product as needed with a fork truck to areas and lift up to 4,000 lbs. Fork truck by others.
Size: Platform size is 48" wide x 48" long or 54" wide x 48" long.
Service Range: Maximum tilt is 40 degrees. Table has a 12" lip on the tilting side.
Electrical: 460 V AC, 3 Phase, 60 Hertz is Standard for the Portable Tilt Table. (Optional electrical changes are available including Voltage, Phase and Hertz at an additional charge).
Powered: Optional Air (Rotary Air/Oil or Reciprocating Air/Oil) is available at an additional charge.
Operation: The unit is supplied with a selector pedal allowing the user to lift while tilting or to tilt and then lift. Pendant hand control is also standard.
Capacity: Features a 4,000 lb. capacity.
Standard: All standard features are the same as available on the Beacon single scissor lift and tilt table.
Options: Portable Tilt Table options available: air bag uni-tilt available, three sided accordion. Please contact Beacon for more information.
Surcharge: Tariffs or surcharges may apply to current published pricing.
---
Portable Tilt Table - BUNI-P Series

Model#
Platform Size (W x L)
Capacity
Level Height
Max. Tilt
Power Unit
Price
1) BUNI-P-4848-4
48"x48"
4,000 lbs
12"
40 Degrees
Internal
$5,865.84
2) BUNI-P-5448-4
54"x48"
4,000 lbs
12"
40 Degrees
Internal
$6,221.64
PROP 65 WARNING
Products on this page may lead to cancer or reproductive harm.
TM
Call Beacon:
800 454-7159