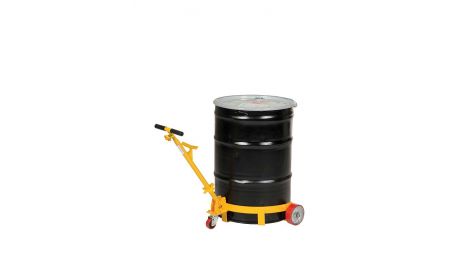 Beacon

®

BLO-DC Series

The Drum Caddy is used to move various-sized drums, reducing worker strain and injury that can be caused by transporting heavy drums manually. This unit features a bung wrench and seal-removing handle that enables it to transport one 30- or 55-gallon drum or two 5-gallon pails.
---
Product Details
Construction: Features steel construction.
Size: This series has a straddle of 26" wide x 16" deep. The inside cradle diameter is 23-1/2". The cradle height is 1/2".
Powered: The unit is pushed by the worker and rolls on two 6" x 2" rigid wheels and one 3" x 1" swivel caster. This unit is available with mold-on-rubber, steel, poly-on-steel, and phenolic casters.
Color: The Drum Caddy is painted Beacon yellow.
Weight: Units weigh either 38 or 40 lbs.
Operation: To operate, align the unit in front of the drum, remove the handle, and grip the drum with the handle. Then tip the drum and guide the unit under it. Then reattach the handle to the caddy, and the unit then is ready to transport the drum.
Capacity: Drum Caddy models feature capacities of up to 1,200 lbs.
Surcharge: Tariffs or surcharges may apply to current published pricing.
---
Drum Caddy - BLO-DC Series

Model#
Capacity (LBS)
Straddle (W x D)
Wheel Type
Note
Price
1) BLO-DC-PU
1,200
26"x16"
Poly on Steel
A
$142.76
2) BLO-DC-CI
1,200
26"x16"
Steel
A
$160.84
3) BLO-DC-PH
1,200
26"x16"
Phenolic
A
$173.90
4) BLO-DC-MR
1,000
26"x16"
Mold On Rubber
A
$142.76
Notes:
A: Features a Removable Pivoting Handle with Built In Bung Nut Wrench, Seal Remover and Drum Lifter Bar

PROP 65 WARNING
Products on this page may lead to cancer or reproductive harm.


Complementary Products: For drum-hoisting equipment, please see Beacon Overhead Drum Lift.


TM
Call Beacon:
800-454-7159