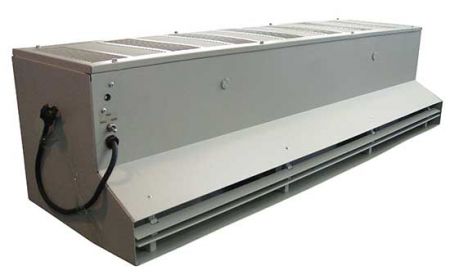 Beacon

®

BACURT Series

The Air Curtain helps reduce energy loss as well as the loss of cold air through warehouse doors and entry doorways. These units are also useful in maintaining a clean environment and reducing the amount of outside particles getting inside.

See chart below and click a model number
---
Product Details
Construction: Units feature 20 gauge rigid steel cabinets.
Size: Models are available to fit doors up to 120" wide and 12' high.
Power: This series is powered by a 3/4 HP heavy duty, PSC, direct drive motor that is signed for use with SCR controllers. Motors feature thermal overload protection and a long life. CFM ranges from 819 to 2544 on low and from 2672 to 9955 on high.
Color: This Air Curtain series features a beige baked-on epoxy powder coat paint.
Weight: Units weigh from 77 to 239 lbs.
Standard: An SCR controller with low end adjustment for air volume control and energy savings is included with all compatible units.
Options: Contact Beacon about heating options for the Air Curtain BACURT series.
Surcharge: Due to supply chain disruption, inflation or material shortages - tariffs or surcharges may apply to current published pricing. Some longer lead times may be incurred.
---
Air Curtain - BACURT Series

Model No.
Doorway Size (W x H)
Overall Size (W x D x H)
CFM High
CFM Low
Motor HP
Voltage
Price
1) BACURT-36
36"x12'
36"x13"x16"
2672
819
¾
115V
$4,292.24
2) BACURT-48
48"x12'
48"x13"x16"
4611
906
¾
115V
$4,663.38
3) BACURT-60
60"x12'
60"x13"x16"
5763
1126
¾
115V
$4,967.95
4) BACURT-72
72"x12'
72"x13"x16"
5344
1638
¾
115V
$8,526.85
5) BACURT-96
96"x12'
96"x13"x16"
9222
1812
¾
115V
$9,177.32
6) BACURT-108
108"x12'
108"x13"x16"
8016
2457
¾
115V
$12,695.05
7) BACURT-120
120"x12'
120"x13"x16"
9955
2544
¾
115V
$13,037.25
PROP 65 WARNING
Products on this page may lead to cancer or reproductive harm.
TM
Call Beacon:
314-487-7600