INDUSTRIAL FANS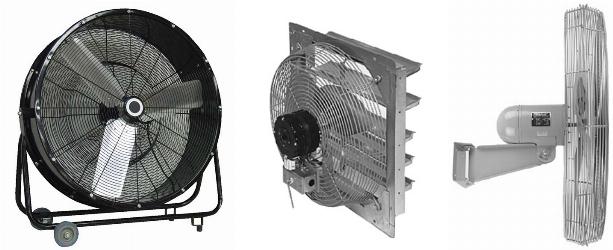 Beacon® Industrial Fans are designed to improve employee comfort, reduce energy costs, increase circulation and ventilation, and allowing for easy temperature control. Industrial Exhaust Fan is available in a variety of models with different motors, blade diameters, CFMs, and mounting styles.
---
Click one of the 7 highlighted links below for pricing and product descriptions of our Industrial Fans.

1) View 2 Models


This BMB is a direct drive unit with a ball bearing motor for dry applications and is available in swivel or stationary models with a 30" or 36" blade diameter.





2) View 1 Product


This BFF-C is designed for use in clean and dry environments and features 3 speeds and a 1/5 HP, 115V, 1 phase motor that is permanently lubricated.





3) View 1 Product


The BDDB-C is a belt drive unit with a ball bearing motor that features 8" rubber wheels for easy workplace mobility and 42" blades for excellent air circulation.





4) View 1 Product


This BDDB is ideal for use in warehouses and factories and has a blade diameter of 36", 8" rubber wheels, and a 15' conductor cord. Increase circulation and employee comfort with this product.





5) View 4 Models


The BHPCR features a 30" blade diameter is available with pedestal, wall, I-beam and ceiling-mounting styles and features a pull-chain switch.





6) View 7 Models


The BACURT is used to maintain clean environments and prevent cool-air loss around warehouse doors. This model is available to fit doors up to 120" wide by 12' high and features a 3/4 HP motor.





7) View 4 Models


Our BSME is designed for use inside the building with vents outside. Shutter-mounted models are available with a blade diameter of 12", 18", 24", or 30". This series is UL-listed and meets OSHA standards.