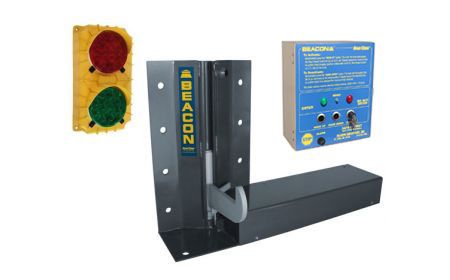 Bear Claw

®

BEVR-650 Series

This Dock Restraint is an electric activation push button controled device with a heavy duty grab hook that prevent trucks from prematurely pulling away from loading docks. This Electric automatic unit reduces the chance for accidents by keeping the trailer against the building with its strong grab hook. This model helps to reduce the chance of load shifting and trailer creep.

See chart below and click a model number
---
Product Details
Construction: This model is constructed of heavy duty steel including an all-weather body frame and cover. The automation includes electric actuator restraining hook operation.
Service Range: The Dock Restraint has a grab hook with a 12" lowered and a 30" raised height with up and down movement. The vertical travel provides a wide-range trailer service.
Electrical: 115V AC, 1 Phase, 60 Hz is standard.
Installation: These units are installed in front of the dock wall. No concrete or pit work are required. Four-inch-thick dock bumpers are required.
Color: Housing is gray industrial enamel paint and hook is hot-dipped galvanized.
Operation: A visual inspection of BEVR hook engagement is necessary & should show the ICC bar captured before operating the dock leveler. Visual hook inspection is necessary with the traffic signal light to prevent a false read. Chocks are also recommended.
Capacities: Grabbing Hook: 50,000-lb. secure restraint force.
Standard: A set of 3 loading dock driver warning signs. One right reading to be mounted on the inside dock wall and 2 to be mounted on the outside dock wall, one right reading and one reverse reading for the truck drive mirror viewing.
Options: The BEVR650-VERSA panel is an integrated control box for the BH5 or BHD5 levelers. The BEVR650 restraint & overhead door enhances dock safety with the lock out feature, utilizing a NEMA type 12 enclosure compact design. Blockouts are available.
Limited Warranty: This Dock Restraint model features a limited one-year warranty.
Note: The customer may receive lower insurance premiums by installing these units. Call your insurance broker and underwriter or Beacon's office for more information. The BEVR650-VERSA is available with a discount when purchased with a BHD5 or BH5 and the BEVR650.
---
Bear Claw® Dock Restraint - BEVR-650 Series

Model No.
Description
Dock Restraint Operation
Control Station Box
Restraining Force (LBS)
Operating Range
Traffic Signal Dock Light
Voltage
Driver Warning Signs
Price
1) BEVR650
Electric Dock Restraint
Push Button Control
NEMA 12
50,000
12" to 30"
Inside Control Box / Outside Traffic Light
115V AC / 1 Ph. / 60 Hz
(1) Inside, (2) Outside,-One Reverse & One Right Reading.
$6,535.38

OPTION

Model No.
Description
Projection
Price
2) B3049
Block Out used with thick bumpers
5.00"
$1,578.74
3) B1236
Block Out used with thick bumpers
2.00"
$1,127.02
4) B3053
Block Out used with thick bumpers
6.00"
$1,220.98
5) B2157
Block Out used with Edge of Dock Leveler
11.00"
$1,588.23

OPTION - Dock Restraint

Model No.
Description
Finish
Height
Guard Length
Rail Thickness
Rail Ribs
Rail Mounting
Mounting Posts Required
Price
6) BGR-F3R-BGD-6-YL
OPTION - Versa Panel with NEMA 12 enclosure: A single control station for the BHD5 or BH5 hydraulic dock leveler and BEVR650 electric truck restraint; overhead door control is included. Price is based on substituting BHD5 or BH5 and BEVR650 control box.
Yellow
15"
⅛"
3
Bolt On
2
$4,019.68
PROP 65 WARNING
Products on this page may lead to cancer or reproductive harm.
TM
Call Beacon:
314-487-7600