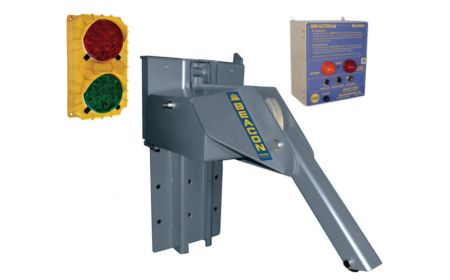 Bear Claw

®

BCE-9600 Series

Vehicle Restraint is operated loading dock device with electric push button control for the Restraining Claw. This unit provides safety against unexpected trailer creep or premature pull away. The unit's operating system is completely self-contained within a heavy-duty steel console for protection from dock debris and elements from the loading dock area. Long lasting and easy to install.

See chart below and click a model number
---
Product Details
Construction: This model is manufactured from heavy duty steel frame and housing.
Service Range: This Vehicle Restraint has grab claw including a 9" lowered and a 27" raised height providing a up and down swing movement. The claw swing vertical travel provides a wide-range trailer service, grabbing the ICC bar for loading dock safety.
Scope: Meets 1998 ICC Reguations.
Operation: Push button electric control panel powers the automatic electric actuator restraining claw operation for a secure ICC bar restraint.
Capacities: Grabbing Claw: 32,000-lb. secure restraint force.
Standard: A set of 3 loading dock driver warning signs. One right reading to be mounted on the inside dock wall and 2 to be mounted on the outside dock wall, one right reading and one reverse reading for the truck drive mirror viewing.
Limited Warranty: The Vehicle Restraint warranty is inclusive as a one-year structural and parts limited warranty.
---
Vehicle Restraint - BCE-9600 Series

Model No.
Vehicle Restraint Operation
Control Station Box
Restraining Force (LBS)
Operating Range
Traffic Signal Dock Light
Voltage
Driver Warning Signs
Price
1) BCE-9500
Push Button Control
NEMA 12
32,000
9" to 27"
Inside Control Box / Outside Traffic Light
115V AC / 1 Ph. / 60 Hz
(1) Inside, (2) Outside,-One Reverse & One Right Reading.
$7,245.53
PROP 65 WARNING
Products on this page may lead to cancer or reproductive harm.
TM
Call Beacon:
314-487-7600