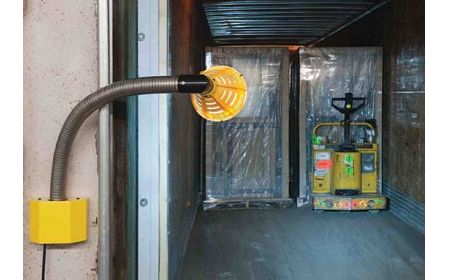 Beacon

®

BLL-GN Series

The Snake Dock Light - Flexible Dock Lighting are effective in distribution centers and loading docks with closely-positioned loading dock areas. These units are low-profile and can be tucked in the spaces between docking areas when not in use. When needed, the flexible goose neck allows to precise positioning on either side, allowing each light to function for two different docks. This series uses only 18 watts of power while providing as much light as a 150-watt incandescent bulb, allowing for low operating cost and extra energy efficiency. Both LED and incandescent models are available. These lights can also be useful in workstations or around machinery where extra, positionable light is required.

See chart below and click a model number
---
Product Details
Construction: These units feature a stainless steel flexible neck.
Size: Both models are 27" long.
Electrical: This series includes a 6-ft power cord complete with strain relief and a NEMA 5-15 plug.
Color: Models feature a Beacon yellow head and base and a stainless steel neck.
Weight: These are lightweight units weighing either 7 or 8 lbs.
Operation: These units can be mounted quickly and easily. The flexible neck provides precise and quick positioning.
Standard: This series is UL listed.
Options: Model BLL-GN-27 uses standard incandescent bulbs from any local lighting or hardware store, up to 150 watts. No special bulbs are required. Replacement LED bulbs are available as a Snake Dock Light option for the BLL-GN-LED-27, model BLL-GN-LED-SP.
Surcharge: Due to supply chain disruption, inflation or material shortages - tariffs or surcharges may apply to current published pricing. Some longer lead times may be incurred.
---
Snake Dock Light - BLL-GN Series

Model No.
Light Type
Length
Price
1) BLL-GN-27
Incandescent
27"
$491.65
2) BLL-GN-LED-27
LED
27"
$688.36

OPTION

Model No.
Description
Price
3) BLL-GN-LED-SP
Replacement LED bulb for BLL-GN-LED-27
$262.88
PROP 65 WARNING
Products on this page may lead to cancer or reproductive harm.
TM
Call Beacon:
314-487-7600