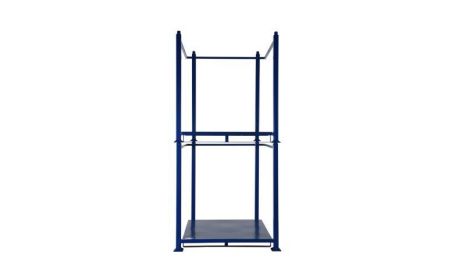 Beacon

®

BNEST Series

The Warehouse Stacking Racks are designed to maximize industrial storage space. The 4" under clearance of these models allows for easy fork truck accessibility. The internestable units can be stacked up to 20' high. They feature flared posts, pintle and target, enabling excellent lining up of units for stacking.

See chart below and click a model number
---
Product Details
Construction: Features welded steel construction.
Size: The units are available with a usable of size up to 60" wide x 48" deep x 48" high. They come in overall sizes of up to 69" wide x 54" deep x 58" high.
Weight: Models come in several weights ranging from 288 to 340 lbs.
Capacity: Warehouse Stacking Racks have a 4,000-lb. capacity.
Surcharge: Tariffs or surcharges may apply to current published pricing.
---
Warehouse Stacking Racks - BNEST Series

Model No.
Usable Size (W x D x H)
Overall Size (W x D x H)
Capacity (LBS)
Price
1) BNEST-106
48"x42"x48"
57"x46"x58"
4,000
$1,074.17
2) BNEST-215
60"x42"x48"
69"x46"x58"
4,000
$1,145.60
3) BNEST-210
48"x48"x48"
57"x54"x58"
4,000
$1,202.61
4) BNEST-230
60"x48"x48"
69"x54"x58"
4,000
$1,278.17
PROP 65 WARNING
Products on this page may lead to cancer or reproductive harm.
TM
Call Beacon:
800-454-7159