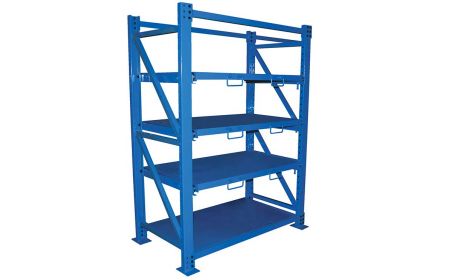 Beacon

®

BVRSOR Series

The Heavy Duty Shelving are ideal storage solutions for workplaces with heavy machinery and dies. Each of the four shelves extends fully and locks to allow workers to load, unload, and access stored materials safely. Units can be loaded with materials via a forklift, an overhead hoist, or a crane. Each shelf height can be adjusted on 2-3/8" centers.
---
Product Details
Construction: Units are constructed of heavy-duty steel with 10-gauge steel shelves and are powder coated Beacon blue.
Size: The BVRSOR-114 model is 114" wide x 32" deep x 80" high. The individual shelves are 52" wide by 32" deep. The Add-On unit is 54" wide x 32" deep x 80" high.
Color: Powder coated Beacon blue.
Weight: The BVRSOR-114 series weighs 900 lbs., the BVRSOR-A-114 is 430 lbs., and the BVRSOR-SLF is 90 lbs.
Note: Shipped unassembled. Assembly by others.
Operation: Roll out shelves one at a time.
Capacity: Per-shelf capacity is 1,500 lbs.; total capacity is 6,000 lbs.
Options: An add-on Heavy Duty Shelving unit and additional shelves are available.
Surcharge: Tariffs or surcharges may apply to current published pricing.
---
Heavy Duty Shelving - BVRSOR Series

Model#
Description
Overall Size (W x D x H)
Shelf Size (W x D)
Number of Shelves
Capacity per Shelf (LBS)
Total Capacity (LBS)
Price
1) BVRSOR-114
Starter
114"x32"x80"
51¼"x32"
6
1,500
6,000
$3,979.32
2) BVRSOR-A-114
Add-On
54"x32"x80"
51¼"x32"
3
1,500
6,000
$2,088.12

OPTION

Model#
Description
Price
3) BVRSOR-SLF
Additional Shelves
$565.53
PROP 65 WARNING
Products on this page may lead to cancer or reproductive harm.
TM
Call Beacon:
800-454-7159