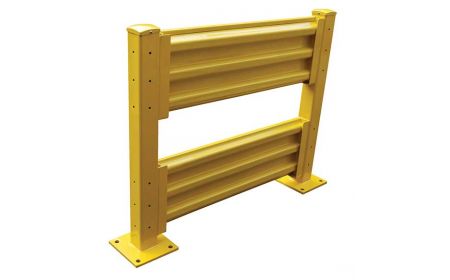 Beacon

®

BGR Series

The Warehouse Guard Rails - Industrial Safety Structure are designed to protect buildings, equipment, and personnel from damages and injury both inside and out. These units are available in drop-in style for easy access or bolt-on style for permanent installation.

See chart below and click a model number
---
Product Details
Construction: Units are constructed from 1/8" thick corrugated triple-ridge steel. Posts are 1/4" thick, and steel base plate is 5/8" thick.
Size: Railings are 15" high and range in length from 41-7/8" to 113-7/8". Posts are either 18" or 42" high. Base plates are 10" x 10".
Installation: For drop-in styles, simple slide railings into post saddles. These models include 2 brackets. Bolt-on styles are for installing permanently.
Color: Models feature either a Beacon yellow or a galvanized finish.
Weight: Individual pieces weigh from 35 to 159 lbs.
Note: All lead times are approximate and are only estimates with no guarantee to a ship date.
Standard: Individual posts come standard with anchors, bolts, washers, and nuts. Two mounting posts are required with each individual railing.
Options: For custom Warehouse Guard Rails sizes, please contact Beacon. Four concrete anchor bolts, 3/4" x 4", required for each post mount.
Surcharge: Tariffs or surcharges may apply to current published pricing.
---
PROP 65 WARNING
Products on this page may lead to cancer or reproductive harm.
TM
Call Beacon:
800-454-7159