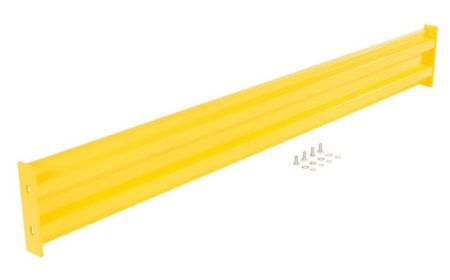 Beacon

®

BGR Series

Bolt On Guard Rail system helps provide a safe working environment while protecting personnel. Improve efficiency while protecting machinery, tool cribs, production line products, loading docks, aisle ways, electrical equipment and boxes, in plant management offices, clean rooms, inspection rooms, interior and exterior building structures, parking lots and outside structures. Helps reduce down time and expensive insurance claims.

See chart below and click a model number
---
Product Details
Construction: Steel Rails are heavy duty 1/8" thick steel. End and corner posts are 1/4" thick steel, available in 18", 42" and 60" high with mounting holes. Each post includes a welded 10" x 10" predrilled baseplate 5/8" thick.
Projection: Rails are available in 2 or 3 rib heights at 12" to 113-7/8" lengths. The 3 rib rails have a 15" height.
Size: Posts are 4" x 4" square with mounting holes on all 4 sides to make available straight runs or corner configuration guard rail layouts.
Installation: Bolt On Guard Rail on site 4 bolt assembly required by others. Rail to post fastners are included with order. Railing is easily assembled utilizing basic hand tools and a concrete drill for post anchor installation to the floor.
Color: Standard color is safety yellow powder coat.
Usage: Bolt on Guard Rail is designed for permanent installation.
Operation: Bolt On swing gates are available 29 -7/8" to 89 -7/8" long.
Standard: Post enclosure includes plastic insert caps for a smooth finishd look.
Options: Color options are black, grey, blue and orange.
Materials: Bolts and washers are provided with each individual rail section. Anchor bolts are purchased seperaterly for the post mounting plate.
Surcharge: Due to supply chain disruption, inflation or material shortages - tariffs or surcharges may apply to current published pricing. Some longer lead times may be incurred.
---
PROP 65 WARNING
Products on this page may lead to cancer or reproductive harm.
TM
Call Beacon:
314-487-7600