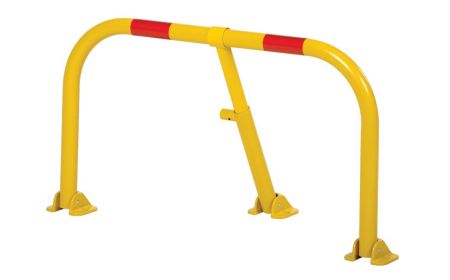 Beacon

®

BPARK series

The Parking Hoop Bollard is engineered to be vertical or horizontal utilized in parking lots. When folded down in the horizontal position vehicles can pass freely and when the bollard is vertical the parking hoop becomes visible and acts as a visual safety barrier.
---
Product Details
Construction: Parking Hoop Bollards are constructed out of steel tubing.
Size: Features a raised height of 18".
Overall Width: These units have a standard width of 34".
Installation: Anchor to the concrete driveway for support.
Color: The BPARK-P-38-S has a yellow finish that is powder coated for resilient toughness. The BPARK-P-38-ZN is zinc plated. Reflective bands come on both units.
Weight: This series has a weight of 112 lbs. for easy installation.
Standard: Parking Hoop Bollards come standard with two (2) sets of keys to lock and unlock the unit whether vertically or horizontally.
Surcharge: Tariffs or surcharges may apply to current published pricing.
---
Parking Hoop Bollard - BPARK series

Model#
Material
Raised Height
Price
1) BPARK-P-38-S
STEEL POWDER COAT, 34" wide
18"
$98.11
2) BPARK-P-38-ZN
STEEL WITH ZINC PLATING, 34" wide
18"
$98.11

Parking Hoop Bollard - BAS series - OPTION

Model#
Description
Price
3) BAS-383
OPTION-Anchor Bolts for Concrete (1) 3/8"x3"
$3.89
4) BAS-383-4PK
OPTION-Anchor Bolts for Concrete (4) 3/8"x3"
$15.11
PROP 65 WARNING
Products on this page may lead to cancer or reproductive harm.
TM
Call Beacon:
800-454-7159