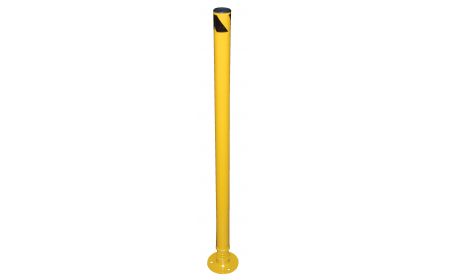 Beacon

®

BSPBOL Series

These signaling Flexible Bollards are designed with a unique spring-loaded design and will not bend or break like rigid bollards. Spring Loaded Posts are designed with a visual and audible warning to help prevent equipment damage. The optional light/siren unit simply slides into the open top of the unit.
---
Product Details
Construction: Features steel construction.
Size: The units are 42" high with an outside diameter of 2-1/2".
Color: These products have a powder coat Beacon safety yellow finish.
Weight: Models without light/siren option weigh 19 lbs. Models with the option weigh 32 lbs. The light and siren option only weigh 2 lbs.
Options: The light/siren option includes sensitive switches that will activate a strobe light and warning siren when contacted. It operates on two 9V batteries (not included). Concrete Flexible Bollards installation hardware is sold separately.
---
Flexible Bollards - BSPBOL Series

Model#
Description
Height
Outside Diameter
Price
1) BSPBOL-42
Spring Loaded Bollard
42"
2½"
$94.22
2) BSPBOL-42-BL
Steel Pipe Bollard with Beeper & Strobe
42"
2½"
$210.61

OPTION

Model#
Description
Price
3) BSPBOL-BL
Optional Light and Siren Package for BSPBOL-42
$117.48
4) BAS-383
Concrete Anchor Bolts Installation Hardware (Single)
3/8"
3"
1"
BSPBOL series
$3.71
5) BAS-383-4PK
Concrete Anchor Bolts Installation Hardware (4-Pack)
3/8"
3"
1"
BSPBOL series
$14.41