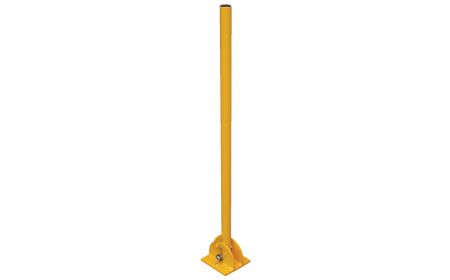 Beacon

®

BBOL-FD Series

The lockable Collapsible Bollards are designed to be lowered flat to the ground, allowing vehicles to be safely driven over them. The Safety Folding Post is designed to protect workers and equipment. These units can be locked into the upright position with a padlock (not included) and can be lowered when the padlock is removed.

See chart below and click a model number
---
Product Details
Construction: Features steel construction.
Size: Each unit has 4" collapsed height and a 42" extended height. The diameter is 1-3/4".
Color: Models are either powder coated Beacon Yellow (-Y models) or feature a galvanized finish (-G models).
Weight: 20 lbs.
Operation: Designed to fold down during a drive passage or unwanted safeity bollard visibility.
Standard: For proper installation, this unit's base plate should be lagged to the ground.
Options: Installation hardware for the Collapsible Bollards are sold separately, either individually or in packs of four.
Surcharge: Tariffs or surcharges may apply to current published pricing.
---
Collapsible Bollards - BBOL-FD Series

Model No.
Extended Height
Collapsed Height
Bollard Diameter
Finish
Price
1) BBOL-FD-36-Y
42"
4"
1¾"
Beacon Yellow Powder Coat
$120.43
2) BBOL-FD-36-G
42"
4"
1¾"
Beacon Galvanized
$120.43

OPTION

Model No.
Description
Sleeve Diameter
Overall Length
Sleeve Length
Price
3) BAS-344
Concrete Anchor Bolts Installation Hardware (Single)
¾"
4¼"
2"
$5.04
4) BAS-344-4PK
Concrete Anchor Bolts Installation Hardware (4-Pack)
¾"
4¼"
2"
$20.15
PROP 65 WARNING
Products on this page may lead to cancer or reproductive harm.
TM
Call Beacon:
800-454-7159