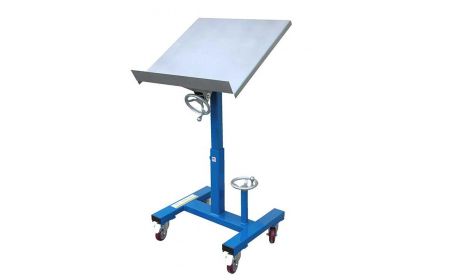 Beacon

®

BWPT & BWT Series

Tilt Work Table is designed to bring work materials to the correct ergonomic position, reducing worker fatigue and injury risk and creating a more productive work environment. All Work Bench Top models feature a manually adjustable height and tilt angle. Two of the units feature a turn knob adjustment, while model BWT-2424 features a hand crank. Four 3-1/2" x 1-1/4" polyurethane swivel casters (2 of which are double locking) enable the unit to be moved from one workstation to another while loaded.
---
Product Details
Construction: Features all steel construction.
Size: This series is available in 3 platform sizes: 16" x 24", 22" x 21", and 24" x 24".
Service Range: Models come with service ranges of 28" to 38" or 31-1/2" to 42".
Color: Model BWPT-1624 features a Beacon blue powder coat finish. The BWT series has a Beacon blue powder coat stand and a steel platform.
Weight: The unit is available in weights of 60, 85, or 120 lbs.
Capacities: The Tilt Work Table comes in capacities of 150, 200, or 300 lbs.
Surcharge: Tariffs or surcharges may apply to current published pricing.
---
Tilt Work Table - BWPT & BWT Series

Model#
Platform Size (W x L)
Lip Height
Service Range
Platform Tilt
Capacity (LBS)
Height Adj. Operation
Price
1) BWT-2424
24"x24"
3"
31½" to 42"
30 Degrees
300
Hand Crank
$822.65
2) BWT-2221
22"x21"
2"
28" to 38"
45 Degrees
150
Turn Knob
$327.53
3) BWPT-1624
16"x24"
2"
31½" to 42"
45 Degrees
200
Turn Knob
$481.27
PROP 65 WARNING
Products on this page may lead to cancer or reproductive harm.
TM
Call Beacon:
800 454-7159