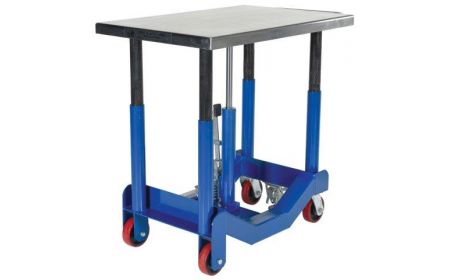 Beacon

®

BPT12 Series

The Adjustable Table provides versatility and efficiency in your facility because of its mobility and lifting applications. This Mobile Workbench series is available as 2 different design units, either powered by a foot pump or linear actuated.

See chart below and click a model number
---
Product Details
Construction: Utilizes a formed base and a telescoping cylinder to achieve the desired height movement.
Size: Platform sizes vary depending on the model which range from 20" wide x 30" long or 24" wide x 36" long.
Service Range: Foot pump model lowered height is 25" with raised of 37". The Linear actuated model lowered height is 34" with a raised of 52".
Weight: Weights vary from 175 to 270 lbs. according to each model.
Capacity: This Adjustable Table series hydraulic adjustable work table design has different model numbers with a lift capacity ranging from 1,000 to 4,000 lbs.
Surcharge: Tariffs or surcharges may apply to current published pricing.
---
Adjustable Table - BPT12 Series

Model No.
Platform Size (W x L)
Capacity
Service Range
Power
Price
1) BPT12-10
20"x30"
1,000 lbs.
25" to 37"
Foot Pump
$797.13
2) BPT12-40
24"x36"
4,000 lbs.
25" to 37"
Foot Pump
$1,204.23
3) BPT2436E
24"x36"
2,000 lbs.
34" to 52"
Liner Actuated
$1,905.11
PROP 65 WARNING
Products on this page may lead to cancer or reproductive harm.
TM
Call Beacon:
800-454-7159