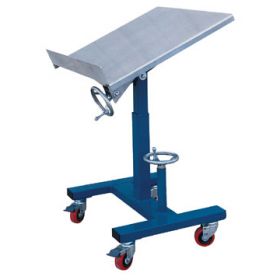 Beacon
®
BWT Series
Ergonomic Desk is designed to bring work materials to optimum ergonomic position, making workers more comfortable and helping to provide a more productive workplace. These Portable Work Table models feature manually adjustable platform height and tilt angle, except for BWT-2424-LA, which is an electric model. Each unit features four 3-1/2" x 1-1/4" polyurethane swivel casters (two of which are double locking), which enable each unit to be transported from one workstation to another while loaded.
---
Product Details
Construction: Features all steel construction.
Size: This product is available in 3 platform sizes: 16" wide x 24" long, 22" wide x 21" long, and 24" wide x 24" long.
Service Range: This series is available with service ranges of 28" to 38" and 31-1/2" to 42".
Weight: The units are available in various weights ranging from 60 to 135 lbs.
Capacity: These Ergonomic Desk models come with capacities of 150, 200, or 300 lbs.
Documents
---