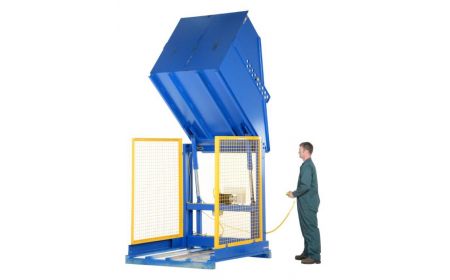 Beacon

®

BHBD Series

Beacon® Hydraulic Box Dumpers - Container Dumper are built to last with a durable heavy duty steel design. Push button control enables one person for dump industrial-use containers up to 135 degrees. Designed and available with several different dump heights. The special lowered height of only 3/8" enables a pallet truck to load or unload. The retaining bars are designed to adjust every 2" to accommodate many container heights.
---
Product Details
Construction: Features heavy-duty welded steel construction. Contact Beacon regarding additional hold-down bar heights
Projection: Chute reach projection is 10" when fully rotated.
Size: The models are available in different sizes ranging from 64" wide x 67" long to 67" wide x 67" long. The chute on all units is 51-1/2" x 50". Special size units are available.
Service Range: The unit's maximum rotation is 135 degrees.
Dump Heights: Unit dump heights are 36", 48" and 60".
Lift Heights: Level heights on the unit are 53", 65" and 77". Rotated heights are 108", 128" and 148".
Electrical: The unit is powered by an internal 2 Hp motor (5 Hp motor on 6,000 lb models). 460V AC, 3 Phase, 60 Hz is standard. Other electrical options are available.
Color: This series has a painted blue finish.
Weight: Varying weights among models range from 1,564 to 2,021 lbs.
Note: All standard and special box dumper chutes are stitch welded. Special continuous welds for liquid tight available at additional charge.
Operation: The worker controls the rotation up and down simply with a hand-held push button control console.
Capacities: Models features capacities of 2,000, 4,000 or 6,000 lbs.
Standard: The units come standard with a 24v pendant hand-held control on an 8' cord. Its structural frame includes protective mesh side screens.
Options: A foot control is optional. Other options for Hydraulic Box Dumpers include different Beacon finishes, a 4-button control for a rotary air/oil power unit, and high cycle packages.
---
Hydraulic Box Dumpers - BHBD Series

Model#
Dump Height
Hold Downs
Level Height
Usable Chute (W x L)
Rotated Height
Capacity (LBS)
Overall (W x L)
Price
1) BHBD-2-36
36"
18"-36"
53"
51½"x50"
108"
2,000
64"x67"
$6,702.58
2) BHBD-2-48
48"
18"-42"
65"
51½"x50"
128"
2,000
64"x67"
$6,929.25
3) BHBD-2-60
60"
18"-50"
77"
51½"x50"
148"
2,000
64"x67"
$7,088.49
4) BHBD-4-36
36"
18"-36"
53"
51½"x50"
108"
4,000
67"x67"
$8,264.88
5) BHBD-4-48
48"
18"-42"
65"
51½"x50"
128"
4,000
67"x67"
$8,526.47
6) BHBD-4-60
60"
18"-50"
77"
51½"x50"
148"
4,000
67"x67"
$8,663.62
7) BHBD-6-36
36"
18"-36"
53"
51½"x50"
108"
6,000
67"x67"
$8,698.42
8) BHBD-6-48
48"
18"-42"
65"
51½"x50"
128"
6,000
67"x67"
$8,920.51
9) BHBD-6-60
60"
18"-50"
77"
51½"x50"
148"
6,000
67"x67"
$9,104.14

OPTION

Model#
Description
Price
10) BHICYCLE-HBD-2/4
High Cycle Package for 2,000 & 4,000-lb. units
$4,763.51
11) BHICYCLE-HBD-6
High Cycle Package for 6,000-lb. units
$5,292.41
12) BFC-2
Foot Control
$175.73
13) BHBD-6-ROTARY-DA-HHPB
DA - 4-button control for rotary air/oil power unit (BHBD-6) (warranty void if used W/O Filter - Regulator - Lubricator (FRL)) (call BEACON for db rating)
$896.38