Truck Restraints
Beacon® Truck Restraints will help keep loading docks safe by reducing the chance for accidents. Superior design and reliability provides a check and balance system at your loading dock. The unit is designed to keep trucks and trailers from prematurely pulling away from docks. The units are available as manual or a push button control electric type.
---
Click one of the 3 highlighted links below for pricing and product descriptions of our Truck Restraints.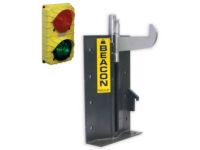 1)
This BMVR-105 manual trailer restraint operated by push rod activation. Rugged mechanical in design with 50,000 lbs. of restraint draw pull, this unit is built to assist in preventing unscheduled truck departure from the loading dock. Optional traffic signal dock lights inside and outside. Driver warning signs are standard for inside and outside.

View 7 Models
starting at $

2,950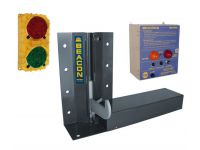 2)
This BEVR-650 electric dock restraint, 115 Vac power, push button control with 50,000 lbs of restraint draw pull. Prevents in assisting premature truck departure at the dock. Includes a featured Nema 12 push button control box with inside traffic dock lights. Outside traffic signal dock lights and driver warning signs are also standard.

View 6 Models
starting at $

5,223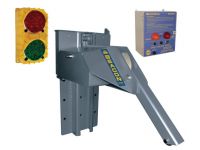 3)
The BCE-9500 electric vehicle restraint, 115 Vac power, push button control, with 32,000 lbs of draw pull. Features inside push button control box with warning lights and traffice signal dock lights outide. Includes a set of 3 driver warning signs, one inside and two for outside.

View 1 Product
at $

6,351
Truck Restraints - Read about uses and applications.
WARNING
This product can expose you to lead, which is known to the State of California to cause cancer and birth defects or other reproductive harm.