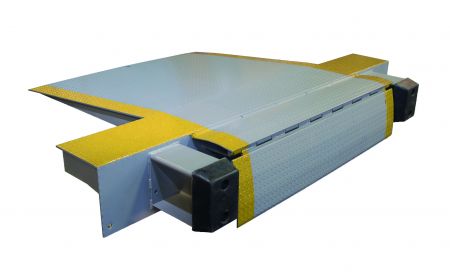 Beacon

®

BMTD Series

Beacon® manual Low Dock Leveler is designed for older buildings with a low dock design. The Low Dock Ramp is to be anchored on the top of the dock to compensate for the low dock and the truck bed.
---
Product Details
Construction: This unit features heavy duty construction. Deck width available in 72" or 78" wide. Overall bumper width is 94" or 100".
Size: The unit's height is determined by dock height. Standard over road tractor trailer bed heights are 48 inches and refrigeration/container trucks can be 50 inches. It is the customers responsibility to choose the correct ramp height for each dock.
Service Range: Designed to have a working range of 5" above and 5" below dock.
Installation: The Low Dock Leveler comes assembled, no site welding required. The optional side curbs are required when an overhead door application.
Note: Due to angle of these models, pallet jacks are not recommended. Please look at our line of scissor dock lifts.
Operation: Manual operation, spring activation. Ramp requires 57 to 67 lbs. of manual force to operate unit, depending on capacity. To operate, pull handle up, pull handle back, push handle forward, return handle to resting position while in use.
Capacity: The manual unit is available in 20,000, 25,000 or 30,000 lb capacities.
Standard: This series come standard with 15" hinged lip and dock bumpers.
Options: The Low Dock Levele with extenders fills in the gap between the side of the top of dock structural frame and side building wall, sealing the overhead door when lowered. Longer lip is 17" to service Refrigerated trucks.
---
Low Dock Leveler - BMTD Series

Model#
Capacity
Lip Projection
Ramp Length
Deck Face
Deck Width
Ramp Height
Service Range
Price
1) BMTD20LD72-3
20,000 lb
15"
30"
94"
72"
3"
(+5") (-5")
$2,368.46
2) BMTD20LD72-5
20,000 lb
15"
48"
94"
72"
5"
(+5") (-5")
$2,729.37
3) BMTD20LD72-7
20,000 lb
15"
52"
94"
72"
7"
(+5") (-5")
$3,090.28
4) BMTD20LD72-9
20,000 lb
15"
64"
94"
72"
9"
(+5") (-5")
$3,451.19
5) BMTD20LD72-11
20,000 lb
15"
78"
94"
72"
11"
(+5") (-5")
$3,810.49
6) BMTD20LD72-13
20,000 lb
15"
90"
94"
72"
13"
(+5") (-5")
$4,171.40
7) BMTD20LD78-3
20,000 lb
15"
30"
100"
78"
3"
(+5") (-5")
$2,547.31
8) BMTD20LD78-5
20,000 lb
15"
48"
100"
78"
5"
(+5") (-5")
$2,909.83
9) BMTD20LD78-7
20,000 lb
15"
52"
100"
78"
7"
(+5") (-5")
$3,269.12
10) BMTD20LD78-9
20,000 lb
15"
64"
100"
78"
9"
(+5") (-5")
$3,630.03
11) BMTD20LD78-11
20,000 lb
15"
78"
100"
78"
11"
(+5") (-5")
$3,990.94
12) BMTD20LD78-13
20,000 lb
15"
90"
100"
78"
13"
(+5") (-5")
$4,350.24

Low Dock Leveler - BMTD Series (continued)

Model#
Capacity
Lip Projection
Ramp Length
Deck Face
Deck Width
Ramp Height
Service Range
Price
13) BMTD25LD72-3
25,000 lb
15"
30"
94"
72"
3"
(+5") (-5")
$2,645.59
14) BMTD25LD72-5
25,000 lb
15"
48"
94"
72"
5"
(+5") (-5")
$2,963.00
15) BMTD25LD72-7
25,000 lb
15"
52"
94"
72"
7"
(+5") (-5")
$2,963.00
16) BMTD25LD72-9
25,000 lb
15"
64"
94"
72"
9"
(+5") (-5")
$3,857.21
17) BMTD25LD72-11
25,000 lb
15"
78"
94"
72"
11"
(+5") (-5")
$4,258.40
18) BMTD25LD72-13
25,000 lb
15"
90"
94"
72"
13"
(+5") (-5")
$4,662.81
19) BMTD25LD78-3
25,000 lb
15"
30"
100"
78"
3"
(+5") (-5")
$2,846.99
20) BMTD25LD78-5
25,000 lb
15"
48"
100"
78"
5"
(+5") (-5")
$3,251.40
21) BMTD25LD78-7
25,000 lb
15"
52"
100"
78"
7"
(+5") (-5")
$3,654.20
22) BMTD25LD78-9
25,000 lb
15"
64"
100"
78"
9"
(+5") (-5")
$4,058.61
23) BMTD25LD78-11
25,000 lb
15"
78"
100"
78"
11"
(+5") (-5")
$4,461.41
24) BMTD25LD78-13
25,000 lb
15"
90"
100"
78"
13"
(+5") (-5")
$4,864.21
25) BMTD30LD72-3
30,000 lb
15"
30"
94"
72"
3"
(+5") (-5")
$2,959.77
26) BMTD30LD72-5
30,000 lb
15"
48"
94"
72"
5"
(+5") (-5")
$3,407.69
27) BMTD30LD72-7
30,000 lb
15"
52"
94"
72"
7"
(+5") (-5")
$3,858.82
28) BMTD30LD72-9
30,000 lb
15"
64"
94"
72"
9"
(+5") (-5")
$3,858.82
29) BMTD30LD72-11
30,000 lb
15"
78"
94"
72"
11"
(+5") (-5")
$4,761.10

Low Dock Leveler - BMTD Series (continued)

Model#
Capacity
Lip Projection
Ramp Length
Deck Face
Deck Width
Ramp Height
Service Range
Price
30) BMTD30LD78-3
30,000 lb
15"
30"
100"
78"
3"
(+5") (-5")
$3,182.12
31) BMTD30LD78-5
30,000 lb
15"
48"
100"
78"
5"
(+5") (-5")
$3,182.12
32) BMTD30LD78-7
30,000 lb
15"
52"
100"
78"
7"
(+5") (-5")
$4,084.39
33) BMTD30LD78-9
30,000 lb
15"
64"
100"
78"
9"
(+5") (-5")
$4,493.64
34) BMTD20LD72-3R
20,000 lb
17"
30"
94"
72"
5"
(+5") (-5")
$2,424.86
35) BMTD20LD72-5R
20,000 lb
17"
48"
94"
72"
5"
(+5") (-5")
$2,784.15
36) BMTD20LD72-7R
20,000 lb
17"
52"
94"
72"
7"
(+5") (-5")
$3,146.67
37) BMTD20LD72-9R
20,000 lb
17"
64"
94"
72"
9"
(+5") (-5")
$3,505.97
38) BMTD20LD78-3R
20,000 lb
17"
30"
100"
78"
3"
(+5") (-5")
$2,605.31
39) BMTD20LD78-5R
20,000 lb
17"
48"
100"
78"
5"
(+5") (-5")
$2,964.61
40) BMTD20LD78-7R
20,000 lb
17"
52"
100"
78"
7"
(+5") (-5")
$3,325.52
41) BMTD20LD78-9R
20,000 lb
17"
64"
100"
78"
9"
(+5") (-5")
$4,651.53

Low Dock Leveler - BMTD Series (continued)

Model#
Capacity
Lip Projection
Ramp Length
Deck Face
Deck Width
Ramp Height
Service Range
Price
42) BMTD25LD72-3R
25,000 lb
17"
30"
94"
72"
3"
(+5") (-5")
$2,718.09
43) BMTD25LD72-5R
25,000 lb
17"
48"
94"
72"
5"
(+5") (-5")
$3,117.67
44) BMTD25LD72-7R
25,000 lb
17"
52"
94"
72"
7"
(+5") (-5")
$3,617.14
45) BMTD25LD72-9R
25,000 lb
17"
64"
94"
72"
9'
(+5") (-5")
$3,926.49
46) BMTD25LD78-3R
25,000 lb
17"
30"
100"
78"
3"
(+5") (-5")
$2,916.27
47) BMTD25LD78-5R
25,000 lb
17"
48"
100"
78"
5"
(+5") (-5")
$3,320.68
48) BMTD25LD78-7R
25,000 lb
17"
52"
100"
78"
7"
(+5") (-5")
$3,725.09
49) BMTD25LD78-9R
25,000 lb
17"
64"
100"
78"
9"
(+5") (-5")
$4,127.89
50) BMTD30LD72-3R
30,000 lb
17"
30"
94"
72"
3"
(+5") (-5")
$3,040.33
51) BMTD30LD72-5R
30,000 lb
17"
48"
94"
72"
5"
(+5") (-5")
$3,491.47
52) BMTD30LD72-7R
30,000 lb
17"
52"
94"
72"
7"
(+5") (-5")
$3,941.00
53) BMTD30LD72-9R
30,000 lb
17"
64"
94"
72"
9"
(+5") (-5")
$4,393.74

Low Dock Leveler - BMTD Series (continued)

Model#
Capacity
Lip Projection
Ramp Length
Deck Face
Deck Width
Ramp Height
Service Range
Price
54) BMTD30LD78-3R
30,000 lb
17"
30"
100"
78"
3"
(+5") (-5")
$3,267.51
55) BMTD30LD78-5R
30,000 lb
17"
48"
100"
78"
5"
(+5") (-5")
$3,717.04
56) BMTD30LD78-7R
30,000 lb
17"
52"
100"
78"
7"
(+5") (-5")
$4,168.17
57) BMTD30LD78-9R
30,000 lb
17"
64"
100"
78"
9"
(+5") (-5")
$4,619.31

OPTION

Model#
Description
Price
58) BMTD-3CURB
Set of 3" Channel Curbs Welded to 3" Low Dock Leveler
$106.34
59) BMTD-5CURB
Set of 3" Channel Curbs Welded to 5" Low Dock Leveler
$122.45
60) BMTD-7CURB
Set of 3" Channel Curbs Welded to 7" Low Dock Leveler
$136.95
61) BMTD-9CURB
Set of 3" Channel Curbs Welded to 9" Low Dock Leveler
$149.84
62) BMTD-11CURB
Set of 3" Channel Curbs Welded to 11" Low Dock Leveler
$160.72