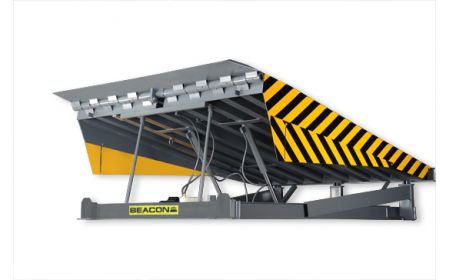 Beacon

®

BEH5 Series

This model of Long Dock Leveler is designed with nominal lengths up to 12' to create less grade angle. This series is ideal for either low docks for standard over the road trucks or to compensate for refrigerated trucks or containers on shipping service. The long deck creates a safe working environment and reduces impact on substructure during the loading and unloading process.
---
Product Details
Construction: Heavy duty steel construction.
Service Range: Service range is 12" above dock and 12" below dock for a total of 24" vertical travel working range.
Overall Width: Designed with overall widths up 97" wide to allow for wide loads on flatbeds.
Overall Length: Available with lengths up to 12' nominal for extra long smooth transitions from dock to truck service.
Powered: The Long Dock Leveler deck is raised with hydraulic dual lift cylinders with a one lip cylinder. Driven by a hydraulic motor pump reservoir self contained unit for easy access mounted to the sub frame.
Color: Beacon Industrial Grey.
Operation: Wall mounted push button control station box.
Capacities: The BEH5 series is rated up to 60,000 lbs static / 30,000 lbs dynamic capacity.
Standard: Full Range safety toe guards.
Options: Painted safety yellow and black strips on entire side of the Long Dock Leveler safety toe guards.
Warranty: Five-year structural and cylinders and one year pump and motor. Extended warranties available.
---
Long Dock Leveler - BEH5 Series

Model#
Capacity
Width
Height
Length
Price
1) BEH561120
20,000
72"
23½"
11'
$14,027.23
2) BEH561220
20,000
72"
23½"
12'
$14,370.67
3) BEH561120.5
20,000
78"
23½"
11'
$14,187.51
4) BEH561220.5
20,000
78"
23½"
12'
$14,530.95
5) BEH571120
20,000
83"
23½"
11'
$14,370.67
6) BEH571220
20,000
83"
23½"
12'
$14,714.11
7) BEH581120
20,000
96"
23½"
11'
$15,400.99
8) BEH581220
20,000
96"
23½"
12'
$16,202.35
9) BEH561130
30,000
72"
23½"
11'
$14,198.95
10) BEH561230
30,000
72"
23½"
12'
$14,485.15
11) BEH561130.5
30,000
78"
23½"
11'
$14,359.23
12) BEH561230.5
30,000
78"
23½"
12'
$14,645.43
13) BEH571130
30,000
83"
23½"
11'
$14,542.39
14) BEH571230
30,000
83"
23½"
12'
$14,828.59
15) BEH581130
30,000
96"
23½"
11'
$15,458.23
16) BEH581230
30,000
96"
23½"
12'
$16,316.83

Long Dock Leveler - BEH5 Series (continued)

Model#
Capacity
Width
Height
Length
Price
17) BEH561140
40,000
72"
23½"
11'
$14,370.67
18) BEH561240
40,000
72"
23½"
12'
$14,599.63
19) BEH561140.5
40,000
78"
23½"
11'
$14,530.95
20) BEH561240.5
40,000
78"
23½"
12'
$14,759.91
21) BEH571140
40,000
83"
23½"
11'
$14,714.11
22) BEH571240
40,000
83"
23½"
12'
$15,858.91
23) BEH581140
40,000
96"
23½"
11'
$15,629.95
24) BEH581240
40,000
96"
23½"
12'
$16,431.31
25) BEH561150
50,000
72"
23½"
11'
$14,542.39
26) BEH561250
50,000
72"
23½"
12'
$14,714.11
27) BEH561150.5
50,000
78"
23½"
11'
$14,702.67
28) BEH561250.5
50,000
78"
23½"
12'
$14,874.39
29) BEH571150
50,000
83"
23½"
11'
$16,030.63
30) BEH571250
50,000
83"
23½"
12'
$16,202.35
31) BEH581150
50,000
96"
23½"
11'
$16,374.07
32) BEH581150
50,000
96"
23½"
11'
$16,545.79
33) BEH561160
60,000
72"
23½"
11'
$14,656.87
34) BEH561260
60,000
72"
23½"
12'
$14,828.59
35) BEH561160.5
60,000
78"
23½"
11'
$14,817.15
36) BEH561260.5
60,000
78"
23½"
12'
$16,133.67
37) BEH571160
60,000
83"
23½"
11'
$16,145.11
38) BEH571260
60,000
83"
23½"
12'
$16,316.83
39) BEH581160
60,000
96"
23½"
11'
$17,939.02
40) BEH581260
60,000
96"
23½"
12'
$18,511.42