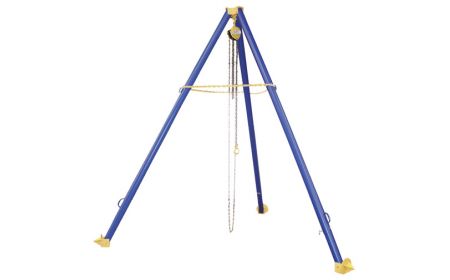 Bear Claw

®

BTRI Series

The Tripod Hoist - Tripod Lift is great for usability for tight areas or confined spaces. The legs can be adjusted independently to enable the use on an uneven surface. Adjustments are in 6 inch increments.
---
Product Details
Construction: The units are available in steel or aluminum construction.
Installation: Two different types of feet, smooth or spiked are available for this unit. For portability and storage the unit conveniently folds.
Operation: It is the customers responsibility to verify a safe and secure footing during operating procedures.
Capacities: This series is available in 1,000 lb. or 2,000 lb. capacities. This Tripod Hoist is for material only and not personnel.
Standard: Swivel eyebolt and safety chain are standard. Chain hoist is not included as standard. Our chain hoist is only available for lifting objects and not personnel.
Options: These Tripod Hoist models are available with adjustable height legs or fixed height legs.
---
Bear Claw® Tripod Hoist - BTRI Series

Model#
Legs
Construction
Application
Eyelet Height Min/Max
Capacity
Price
1) BTRI-SA
Adjustable Height Legs
Steel
Material only & not personnel
8'-6" to 13' 6"
2,000 LBS
$1,279.37
2) BTRI-SF
Fixed Height Legs
Steel
Material only & not personnel
8'-6" fixed
2,000 LBS
$1,050.97
3) BTRI-AA
Adjustable Height Legs
Aluminum
Material only & not personnel
8'-6" to 13' 6"
1,000 LBS
$2,494.54
4) BTRI-AF
Fixed Height Legs
Aluminum
Material only & not personnel
8'-6" fixed
1,000 LBS
$2,030.20