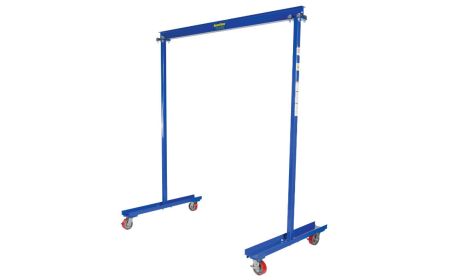 Bear Claw

®

BFPG Series

The Gantry Hoist - Overhead Gantry Crane is designed to maximize material handling requirements in light-duty lifting applications. The lightweight industrial design features easy mobility for shop floor applications.

See chart below and click a model number
---
Product Details
Construction: The series has an all welded steel construction.
Size: Fixed Height. This work area model has a square base design including a base width of 68" and a straddle width of 68".
Installation: Note: All cranes are shipped disassembled. All products should be inspected frequently to ensure safe operation. Final testing and inspecting is left to the end user after final assembly has been completed. For further details see ASME B30.17.
Color: The Gantry Hoist has a blue powder coat finish
Operation: The overhead gantry crane is not to be moved while loaded.
Capacity: This product supports up to 2,000 lbs.
Standard: Includes four polyurethane-on-steel wheel casters.
Options: Hoist with trolley for the Gantry Hoist sold separately.
Surcharge: Due to supply chain disruption, inflation or material shortages - tariffs or surcharges may apply to current published pricing. Some longer lead times may be incurred.
---
Bear Claw® Gantry Hoist - BFPG Series

Model No.
Under I-Beam to Ground
Base Width
Straddle Width (ID)
I-Beam Flange (W x H)
Capacity (LBS)
Note
Price
1) BFPG-3
90"
48"
68"
2.66"x4"
300
A
$1,532.63
2) BFPG-6
90"
48"
68"
2.66"x4"
600
A
$1,587.27
3) BFPG-10
90"
48"
68"
2.66"x4"
1,000
A
$2,090.99
4) BFPG-20
90"
48"
68"
2.66"x4"
2,000
A
$2,669.83
Notes:
A: * Hoist & Trolley sold separately*. *Assembly by others*.

PROP 65 WARNING
Products on this page may lead to cancer or reproductive harm.


Complementary Products: To learn about an additional portable industrial lifting device, please see Beacon portable jib cranes.


TM
Call Beacon:
314-487-7600