Liquid Storage Container Tilter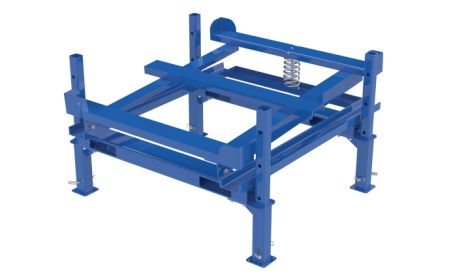 Beacon

®

BIBC-TLT-FPL Series

Liquid Storage Container Tilter features a self rising design as contents dispense. Allows for easy access to valve connections. Tilts IBC towards the valve for efficient dispensing when contents are getting low.

See chart below and click a model number
---
Product Details
Construction: Steel construction for industrial use. Adjustable height stand allows for valve access and connections.
Overall Fork Width: Fork Pockets are 7" Wide x 2" High on 27" centers.
Installation: The legs are supplied with pre-drilled mounting holes for anchoring to the concrete surface floor. Fork lift pockets are supplied for movement into postion.
Scope: Self Raising Steel Intermediate Bulk Container Tilt Stand for draining fluids.
Usage: Designed specifically for Tilting toward the valve of the INC for dispensing fluid when low.
Operation: The rear of the platform rises in the drain process as the weight diminishes. When drainng, the angle increases allowing the fulid to flow out of the container.
Capacity: Liquid Storage Container Tilter uniform capacity is 4,400 lbs.
---
Liquid Storage Container Tilter - BIBC-TLT-FPL Series

Model No.
Overall Size (W x L x H)
Fork Pocket W x H / Center
Uniform Capacity
Price
1) BIBC-TLT-FPL
47"x49¼"x49¼"
7"x2" / 27"
4400 lbs
$1,212.73
PROP 65 WARNING
Products on this page may lead to cancer or reproductive harm.
TM
Call Beacon:
314-487-7600