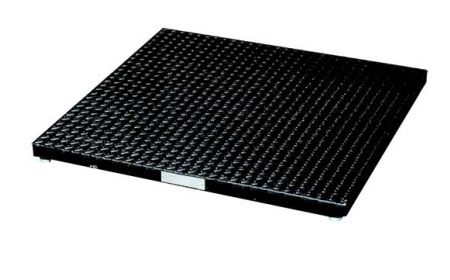 Beacon

®

BVLPFS Series

The Platform Scale is designed for use in high volume shipping and receiving areas. These Warehouse Scale units may be either free standing or pit mounted. Units have overload protection up to 150% of rated capacity. These models also feature adjustable leveling feet. The display is 6 digit and 7 segment with bidirectional RS232 port, pounds or kilograms options, and 5 controls: Print, Net/Gross Weight, Unit, Tare, and Zero.

See chart below and click a model number
---
Product Details
Construction: The platform is constructed from diamond tread heavy duty mild steel for many years of heavy use. The platform also has welded channel support. Indicator is stainless steel.
Size: Platforms range in size from 36" to 60" wide, 36" to 60" long, and 2-3/4" to 4" high.
Powered: Models have a 110V AC power supply.
Color: This series is powder coated Beacon black.
Weight: Units range in weight from 200 to 446 lbs.
Capacity: Models have uniform and sensor capacities of 2,000 or 4,000 lbs.
Options: Optional approach ramps for either side of the Platform Scale are available. Units are 36" wide x 36" long, 48" wide x 36" long, or 60" wide x 36" long. All ramps have a 4.45 degree angle and are 4-1/2" high.
Surcharge: Tariffs or surcharges may apply to current published pricing.
---
Platform Scale - BVLPFS Series

Model No.
Capacity (LBS)
Sensor Capacity (LBS)
Indexing Accuracy (LBS)
Power
Overall Size (W x L x H)
Price
1) BVLPFS-2
2,000
2,000
0.50
110V AC
36"x36"x2¾"
$1,624.59
2) BVLPFS-4A
4,000
4,000
1
110V AC
48"x48"x2¾"
$1,768.72
3) BVLPFS-4B
4,000
4,000
1
110V AC
60"x60"x2¾"
$2,111.24

OPTION

Model No.
Description
Size (W x L x H)
Angle
Price
4) BVLPFS-R-3636
Approach Ramp
36"x36"x4½"
4.45°
$415.45
5) BVLPFS-R-3648
Approach Ramp
48"x36"x4½"
4.45°
$536.57
6) BVLPFS-R-3660
Approach Ramp
60"x36"x4½"
4.45°
$645.09
PROP 65 WARNING
Products on this page may lead to cancer or reproductive harm.
TM
Call Beacon:
800-454-7159