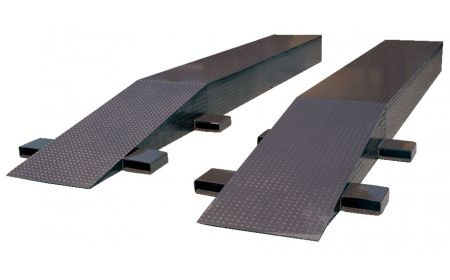 Beacon

®

BSWR Series

The Steel Wheel Riser Ramp is designed to elevate semi-trailers to loading dock height for maximum serviceability during loading and unloading. These Wheel Ramps are equipped with fork slots for a easy transporting with a forklift. These are sold and priced each as an individual unit. They are designed to be stackable for storage in confined spaces when not in use. This unit is designed to be in compliance with OSHA's requirement of a 10% maximum grade of ascending or descending loaded fork trucks.

See chart below and click a model number
---
Product Details
Construction: Units are constructed of heavy-duty welded steel. Safety treadplate provides positive traction.
Size: Models are available in 6-1/4", 8-1/4", 10-1/4", and 12-1/4" heights.
Service Range: The fork pockets have 7-1/2" x 2-1/2" of usable space.
Overall Width: Models have two available overall widths: 18" or 24". Fork pockets add approximately 15" to the overall width.
Overall Length: The overall length ranges from 48" up to 108". Level lengths range from 24" to 64".
Color: Painted a neutral, earth-tone brown.
Weight: Models weigh from 183 to 644 lbs.
Note: Units are priced and sold each. Dual wheels on semi-trailers are 18" wide. The 24" wheel risers work best for this application.
Capacity: This series has a maximum capacity of 40,000 lbs. per pair.
Standard: This series assists in loading docks meeting OSHA/ANSI B56.1 part 3 sec 7 requirements.
Options: Steel Wheel Riser Ramp options include portable caddies, hardware, and anchor brackets. Optional pre-aligned, pre-spaced parallel ramps attached by a pick-up connector (102" wide). Fork trucks simply position and lower in place at the loading dock.
Surcharge: Tariffs or surcharges may apply to current published pricing.
---
PROP 65 WARNING
Products on this page may lead to cancer or reproductive harm.
TM
Call Beacon:
800-454-7159