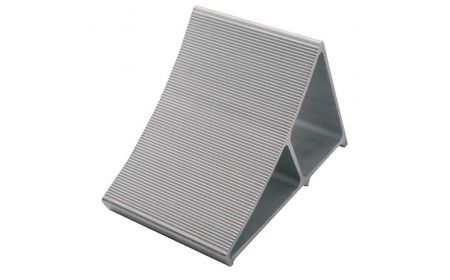 Beacon

®

BEALUM Series

Aluminum Wheel Chock is a vital aid in securing trucks in dock areas. These products are lightweight and assist in preventing wheel load shifts while the truck is being loaded and unloaded. Various models are available, including units featuring a hand grip, an ergonomic handle, a handle and sign, or a flag.

See chart below and click a model number
---
Product Details
Construction: The unit is constructed of extruded aluminum.
Size: This series is 7" wide x 8" high x 10" deep. The exception is the BCWS-13 with flag, which is 7" wide x 8" high x 10-1/2" deep. Dimensions do not include handle or sign.
Color: Models feature either an aluminum finish or a Beacon safety yellow finish. The -H and -HS models feature a Beacon yellow handle.
Weight: Models weigh 8, 18, or 19 lbs.
Operation: Both the BEALUM-7-H and BEALUM-7-HS with handle can be reversed to either side of the chock. The BEALUM-7-HS handle with sign is designed to be used on the driver side of truck.
Options: An optional OSHA standards trailer jack stand sign is available to accompany the Aluminum Wheel Chock.
Surcharge: Due to supply chain disruption, inflation or material shortages - tariffs or surcharges may apply to current published pricing. Some longer lead times may be incurred.
---
Aluminum Wheel Chock - BEALUM Series

Model No.
Description
Width
Height
Length
Price
1) BEALUM-7
Chock
7"
8"
10"
$76.28
2) BEALUM-7-HNDG
Chock with Hand Grip
7"
8"
10"
$110.49
3) BEALUM-YEL
Yellow Chock
7"
8"
10"
$82.63
4) BEALUM-7-H
Chock with 36" high Handle
7"
8"
10"
$141.04
5) BEALUM-7-HS
Chock with Handle & Sign
7"
8"
10"
$237.80
6) BCWS-13
Chock with Flag
7"
8"
10½"
$217.36
PROP 65 WARNING
Products on this page may lead to cancer or reproductive harm.
TM
Call Beacon:
314-487-7600