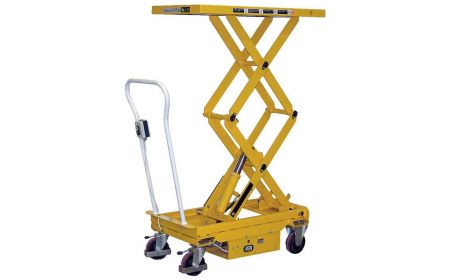 Beacon

®

BCART-SCTAB Series

The push-button Scissor Lift Cart is ergonomically designed to minimize user bending and lifting, reducing fatigue and injury risk. These Power Drive Cart units enable items to be efficiently loaded onto them, lowered to a proper transporting height and later raised for unloading. They move on 4 polyurethane casters, 2 swivel with brakes and 2 rigid. These models have an internal hydraulic velocity fuse in each cylinder.
---
Product Details
Size: This series comes in various platform sizes to accomadate most jobs.
Service Range: The unit is available with many service ranges from 13" to 35" up to 19-1/2" to 63-3/4".
Power: This series is powered by a 12V DC battery standard. Unit includes the battery and on-board charger.
Color: Models are Beacon Yellow, Blue, or Orange.
Weight: This series comes in a variety of weights ranging from 360 to 514 lbs.
Operation: Units are raised and lowered via a push button.
Capacity: This series is available in a variety of service capacities ranging from 500 to 2,000 lbs.
Surcharge: Tariffs or surcharges may apply to current published pricing.
---
Scissor Lift Cart - BCART-SCTAB Series

Model#
Description
Platform Size (W x L)
Capacity (LBS)
Service Range
Price
1) BCART-1000D-DC
Double Scissor
20½"x39¾"
1,000
19½" to 63¾"
$2,372.03
2) BCART-1000-DC
Single Scissor
20½"x39¾"
1,000
17½" to 37½"
$2,480.78
3) BCART-1000-WD-DC
Single Scissor
31½"x47¼"
1,000
17" to 48"
$3,085.46
4) BCART-1000-LD-DC
Single Scissor
24½" x60"
1,000
17½" to 45"
$3,172.93
PROP 65 WARNING
Products on this page may lead to cancer or reproductive harm.
TM
Call Beacon:
800 454-7159