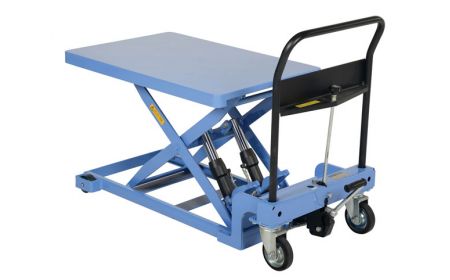 Beacon

®

BCART series

The Low Scissor Lift Cart features a lowered height of 3-1/2 inches. This unit is designed with a two-speed manual hydraulic foot pump that doubles up the lifting speed when the pedal is turned to the left position. This model comes standard with a speed control valve to control the table top decent.

See chart below and click a model number
---
Product Details
Construction: The Low Scissor Lift Cart is manufactured with heavy duty steel construction.
Size: Platform size is 23-3/4" x 35-5/8".
Service Range: This unique design features a lowered height of 3-1/2" and a raised height of 24".
Powered: Hydraulic foot pump pedal makes operation easy.
Operation: Manual two speed foot pump doubles up the lifting speed when the pedal is turned to the left. This model is equipped with a speed control valve that prevents the table from moving downwards at a face speed.
Capacity: Uniform capacity is 900 lbs.
Standard: Built in load check valve comes standard with each Low Scissor Lift.
Surcharge: Tariffs or surcharges may apply to current published pricing.
---
Low Scissor Lift Cart - BCART series

Model No.
Platform Size (W x L)
Capacity (lbs.)
Lowered Height
Raised Height
Number of Pumps at High Speed
Number of Pumps at Low Speed
Price
1) BCART-900-LP
23¾"x35⅝"
900
3½"
24"
33
53
$2,571.11
PROP 65 WARNING
Products on this page may lead to cancer or reproductive harm.
TM
Call Beacon:
800-454-7159