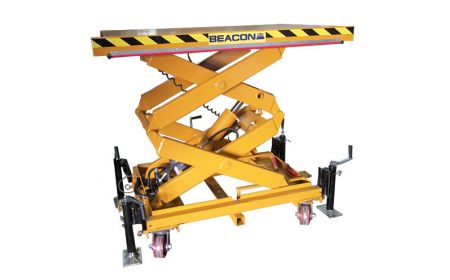 Beacon

®

BZ-BDSL Series

The movable Hydraulic Elevating Cart is designed with several type stabilizers. This Mobile Scissor Lift unit includes removable outriggers on (3) three sides, locking ears on (1) one side of the deck perimeter face, floor locks on each end of the sub-frame, and a zero leak valve for precision locking and holding. In addition to this convenience, the units have a raised height up to 83 inches and a raising capacity of up to 6,000 lbs.
---
Product Details
Construction: This series is designed with four polyurethane casters allowing for the ease of mobility. The series includes (4) four - 6" diameter 90 degree swivel wheels with locks.
Power: Unit is available as AC or DC Power.
Installation: This unit is portable and designed to pushed through a choke point and then outriggers installed for stabilization at the load area. Floor locks operate with the weight of the cart.
Operation: Step 1: Cart pushed into position against table platform. Step 2: Outriggers are installed. Step 3: Cart is raised. Step 4: Locking pins inserted into ears. Step 5: Payload is moved on cart deck. Step 6: Remove pins. Step 7: Lower cart. Step 8: Move cart.
Standard: The Hydraulic Elevating Cart includes an internal hydraulic velocity fuse in each hydraulic cylinder.
Surcharge: Tariffs or surcharges may apply to current published pricing.
---
Hydraulic Elevating Cart - BZ-BDSL Series

Model#
Travel
Capacity (LBS)
Edge Load Static (LBS)
Edge Load Rolling (LBS)
Platform Std.
Platform Max.
Lowered Height
Raised Height
Motor HP
Cylinder
Price
1) BZ-BDSL-20-060
60"
2,000
1,000
670
30"x48"
48"x72"
17"
77"
1
1
$17,470.86
2) BZ-BDSL-40-060
60"
4,000
2,000
1,340
30"x48"
48"x72"
21"
81"
1
1
$19,728.66
3) BZ-BDSL-60-060
60"
6,000
3,000
2,000
30"x48"
48"x72"
23"
83"
1
1
$23,491.66
PROP 65 WARNING
Products on this page may lead to cancer or reproductive harm.
TM
Call Beacon:
800 454-7159