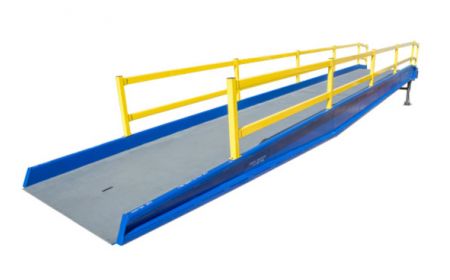 Beacon

®

BSYSPJ Series

Pallet Jack Yard Ramp features a long solid deck design with a special grip surface. Self-supporting adjustable leg set supports the ramp end, allowing trucks to back up for loading and unloading procedures. Edge of Dock Leveler mounted on the end of ramp compensates for ramp / truck height adjustment. Designed as a pallet jack truck ramp to load and unload from ground to tractor trailer bed height in the yard when no loading dock is available.

See chart below and click a model number
---
Product Details
Construction: Heavy Duty Steel Construction. Solid Deck design includes 100% solid, two component epoxy grip coating that provides superior resistance to chemicals and wear while providing safer footing and traction for pallet jacks.
Size: Overall length is 48' with a unique long 44' incline with a 4' level-off deck. Slope is 9.13 percent based on a 48 inch height ramp.
Service Range: Adjustable legs with 42 inches to 56 inches service range for different truck heights.
Overall Width: Outside structural beam to outside structural beam is 84 inches. Usable width is 78 inches from inside structural safety curb beam to inside structural safety curb beam.
Installation: Designed to be set in place in the loading yard, allowing trucks to back up to it for pallet jack or fork truck loading and unloading procedures.
Color: Beacon blue ramp structure, Beacon yellow hand rails and grey deck surface.
Weight: Approx. 12,000 lbs.
Usage: Electric / Powered Pallet Jack or Fork Truck application.
Standard: Steel safety hand rails are standard on both sides of the ramp, to be securely mounted to the top of the 8" safety curbs. Manual Edge of Dock Leveler with 6" vertical travel is securely welded to the end of ramp.
Limited Warranty: Twelve months limited warranty.
Materials: The special deck grip coating surface resists most acids, alkalis, solvents, grease, oil, salt water, detergents, alcohol, gasoline, jet fuel and hydraulic fluids. Deck contains no solvents, allowing its use for odor sensitive applications with food processing facilities and hospitals. Designed for indoor and outdoor use.
Surcharge: Due to supply chain disruption, inflation or material shortages - tariffs or surcharges may apply to current published pricing. Some longer lead times may be incurred.
Note: When using a pallet jack on the ramp it is the customers responsibility to ensure proper training on weight distribution for the worker operating the pallet jack.
---
Pallet Jack Yard Ramp - BSYSPJ Series

Model No.
Undercarriage
Capacity (LBS)
Overall Width
Usable Width
Length
Level Off
Price
1) BPJYR-B16SYS8448L
Adjustable Leg Set
16,000
84"
78"
48'
4'
$46,265.56
PROP 65 WARNING
Products on this page may lead to cancer or reproductive harm.
TM
Call Beacon:
314-487-7600