Additional Drum Racker
(17 Models)
BHDC-450-60-AC Drum Racker
Beacon

®

BHDC-405 Series

Model Number:

BHDC-450-60-AC



Acceptable Drum Types: 55 Gallon Steel
Rotation Method: Pull Chain
Lifting Method: AC power
Lift Height: 60"
Capacity (LBS): 800

Shipping Weight (LBS): 745
Shipping Class: 250

Additional Notes: Drum Must be Full to Rotate at Rated Capacity
Category: Drum Racker



Product Info PDF: BHDD-BHDC-450-Tech-Sheet.pdf
Owners Manual PDF: BHDC-450-Owners-Manual.pdf

$4,073.31 each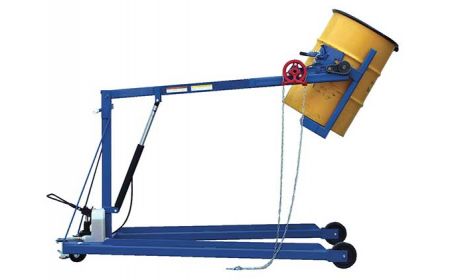 Beacon

®

BHDC-405 Series

Model Number:
BHDC-450-60-AC
Acceptable Drum Types: 55 Gallon Steel
Rotation Method: Pull Chain
Lifting Method: AC power
Lift Height: 60"
Capacity (LBS): 800
Shipping Weight (LBS): 745
Shipping Class: 250
Additional Notes:
Drum Must be Full to Rotate at Rated Capacity
Category:
Drum Racker
Product Info PDF: BHDD-BHDC-450-Tech-Sheet.pdf
Owners Manual PDF: BHDC-450-Owners-Manual.pdf


It is the customer's responsibility to verify BHDC-450-60-AC correctness of fit for applications. It is the customer's responsibility to verify that this Drum Racker - with Power Lift - BHDC-405 Series complies with all safety laws, codes and regulations.

Complementary Products: For equipment designed to efficiently transport drums, please see Beacon Drum Picker.


PROP 65 WARNING
Products on this page may lead to cancer or reproductive harm.
Tariffs or surcharges may apply to current published pricing.
TM
Call Beacon:
800-454-7159