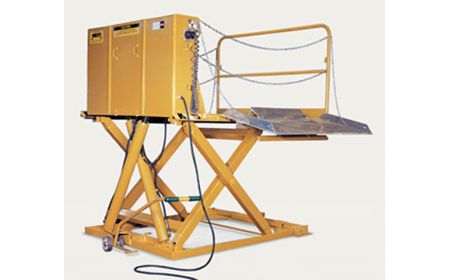 Beacon

®

BTAD Series

The high quality Mobile Truck Dock Lifts are designed as low-profile mobile or stationary loading docks at facilities where permanently installed units are not always possible. Portable Lift Leveler units feature a detachable dolly with wheels that flip up or down to provide a clearance of 1-1/2" when moving empty lifts. Units feature removable handrails, rectangular, structural tube scissor legs, hinged safety restraint maintenance bars, and lifetime lubricated anti-friction bearings at all pivot points.

See chart below and click a model number
---
Product Details
Construction: The checkered plate deck is constructed of heavy-gauge steel. Handrail, approach ramp, and bridge plate are all steel. Bridge plate and approach ramp both feature 2 lifting chains. Handrail has 4" high toeboard.
Size: Units are available with deck sizes of either 72" Long x 72" Wide or 72" Long x 96" Wide.
Service Range: All units feature a 55" travel, a lowered height of 5", and a raised height of 60".
Power: Units come standard with a 1-1/2 HP motor and either 2 cylinders (-606) or 3 cylinders (-608). Standard power supply is 230V, 1 PH, 60 Hz. Alternate power supplies available.
Installation: BTAD 8' width is measured from the power unit to the opposite side hand rails. A 6' long x 8' wide BTAD can only have a max of 6' between the ramp and bridge. On a 180 degree pass thru design you enter on the 8' side and exit on the 8' opposite side.
Color: The Mobile Truck Dock Lifts are surface degreased, oxide primed, and finished with two coats of enamel paint.
Note: Contact Beacon for alternate transfer arrangements.
Operation: BTAD units with suffix -606 feature an approximate up speed of 9 F.P.M.; those with suffix -608 have an up speed of 6 F.P.M. Units feature an internal high-pressure gear pump with check, relief, solenoid, and pressure-compensated flow control valves.
Capacity: Units have a capacity of 3,000, 4,000, or 5,000 lbs. and maximum axle load at ends and sides of 1,500, 2,000, or 2,500 lbs.
Standard: Units feature a 30" x 60" hinged steel approach ramp, an 18" x 60" bridge plate, 4 safety chains, straight toeguards with yellow and black striping, hinged safety restraint maintenance bars, and hydraulic oil.
Options: Mobile Truck Dock Lifts options include USPS buzzer or flashing light, oil reservoir immersion heaters, aluminum bridge plates or aluminum approach ramps, and larger power units for faster speeds.
Surcharge: Tariffs or surcharges may apply to current published pricing.
---
Truck Dock Lift - BTAD Series

Model No.
Platform Size (L x W)
Lowered Height
Raised Height
Capacity (LBS)
Motor
Cyl.
Price
1) BTAD-30-606
72"x72"
5"
60"
3,000
1½ HP
2
$33,180.63
2) BTAD-40-606
72"x72"
5"
60"
4,000
1½ HP
2
$34,300.50
3) BTAD-50-606
72"x72"
5"
60"
5,000
1½ HP
2
$35,424.88
4) BTAD-30-608
72"x96"
5"
60"
3,000
1½ HP
3
$35,137.39
5) BTAD-40-608
72"x96"
5"
60"
4,000
1½ HP
3
$37,619.46
6) BTAD-50-608
72"x96"
5"
60"
5,000
1½ HP
3
$38,740.84
PROP 65 WARNING
Products on this page may lead to cancer or reproductive harm.
TM
Call Beacon:
800-454-7159