Traffic Signal Dock Lights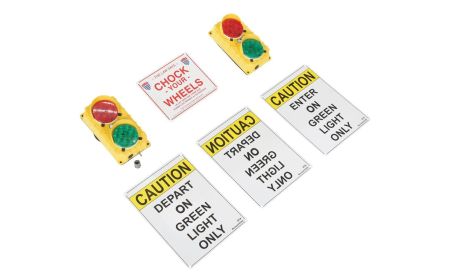 Beacon

®

Traffic Signal Dock Lights

The Traffic Signal Dock Lights features red and green flashing LED lights. Designed to provide safety at the loading dock inside and outside. Designed to be wired when the inside light is green the outside light is red. At the flip of a toggle switch, the the inside light is red notifying the dock worker to stay clear of the dock and the outside light is green allowing the truck driver to depart.

See chart below and click a model number
---
Product Details
Construction: Traffic Signal Dock Lights is a polyproplene housing supplied with red and green LED lights in each light box for inside and outside. Shipped assembled, ready for installation by others.
Projection: Built in eydbrow type sun visors above the light lense to increase visibility.
Size: Dimensions of each light box: 7.125" wide x 4" long x 11.75" high.
Electrical: 115 Vac, 1 Ph, 60 Hz. (UL and C-UL certified).
Powered: Watts: 7 each
Color: Yellow light box housing.
Operation: Toggle Switch located on inside master unit, wired by others to control both light boxes inside and out.
Standard: Traffic Signal Dock Lights BDTS-5 system kit includes (2) traffic signal light boxes with red and green flashing LED light in each box. (3) Loading Dock safety warning signs reading "ENTER ON GREEN LIGHT ONLY" and (1) sign reads "CHOCK YOUR WHEELS".
Note: Sold as a kit including (2) traffic light boxes and (4) safety warning signs.
---
Traffic Signal Dock Lights

Model No.
Description
Light Casing
Light Lense
Traffic Light Colors
Lense Diameter
Voltage:
Kit Includes
Price
1) BDTS-5
(1) One master inside light box with flasher-including toggle switch control and (1) one outside light box.
Polypropylene
LED
Red / Green
4"
115 Vac, 1 ph
(2) Two traffic light boxs and (4) safety warning signs
$890.32
PROP 65 WARNING
Products on this page may lead to cancer or reproductive harm.
TM
Call Beacon:
314-487-7600