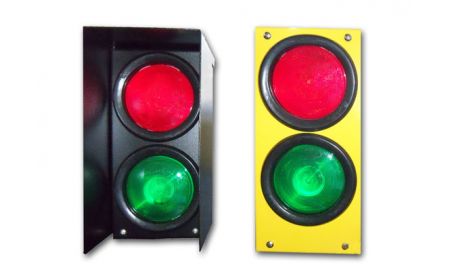 Beacon

®

TDL-1100 Series

Traffic Dock Light - Loading Signal Lights provide additional loading dock safety by enabling increased direct communication between dock attendants and truck drivers. These lights help prevent unscheduled truck departure and trailer entry by signaling red and green to the truck driver and forklift driver.

See chart below and click a model number
---
Product Details
Construction: The TDL-1100 standard series features steel construction.
Electrical: 115 V AC, 1 Phase, 60 Hz is standard.
Scope: Pricing is per set, one light box inside and one light box outside.
Note: The customer may receive lower insurance premiums by installing loading traffic lights. Call your insurance broker and underwriter or call Beacon's office.
Usage: Automatic Application: Limit Switch mounted on inside overhead door track. The Traffic Dock Light changes when the overhead door raises or lowers. When door is closed the outside light is green and inside is red. When the door is open the outside is red and inside green.
Operation: Manual toggle switch or optional overhead door limit switch for automated process.
Standard: TDL-1100 115 V single phase are stepped down with a 10 V step-down transformer. The TDL-1100 includes a solid-state flasher.
Trademark: Ever Light, Registration No: 2,708,875
Surcharge: Tariffs or surcharges may apply to current published pricing.
---
Traffic Dock Light - inside and outside set - TDL-1100 Series

Model No.
Trademark Registration
Casing
Quantity
Price
1) TDL-1100-1
EverSignal
Steel
25-49
$797.12
2) TDL-1100-2
EverSignal
Steel
50-99
$787.58
3) TDL-1100-3
EverSignal
Steel
100-299
$771.68
4) TDL-1100-4
EverSignal
Steel
300-399
$755.78
5) TDL-1100-5
EverSignal
Steel
400-699
$738.82
6) TDL-1100-6
EverSignal
Steel
700 +
$689.00
PROP 65 WARNING
Products on this page may lead to cancer or reproductive harm.
TM
Call Beacon:
800-454-7159