Rough Terrain Forklift
Beacon® Rough Terrain Forklift is designed to securely transport heavy loads over uneven terrain. The Contruction Pallet Jack is available in gas-powered or manual models to suit many applications and is ideal for use at job sites, gravel pits, nurseries, construction areas and more.
---
Click one of the 2 highlighted links below for pricing and product descriptions of our Rough Terrain Forklift.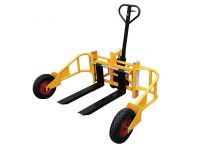 1)
The BALL-T with large pneumatic tires for effortlessly moving over uneven surfaces, is available with up to a 2,500-lb. capacity, adjustable forks, and a service range from 3" to 9".

View 3 Models
starting at $

993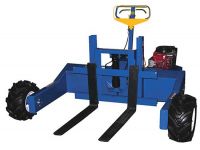 2)
This BALL-T-GPT transports loaded pallets over rough surfaces. The gas-powered unit features capacities of up to 4,000 lbs and has a 6 hp Briggs & Stratton engine.

View 6 Models
starting at $

8,541
WARNING
This product can expose you to lead, which is known to the State of California to cause cancer and birth defects or other reproductive harm.