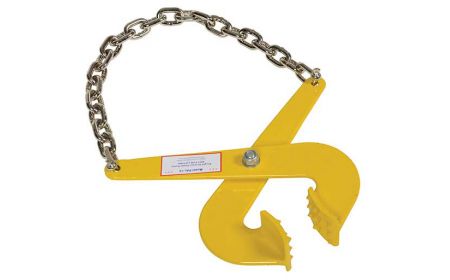 Beacon

®

BPAL Series

The Pallet Pullers - Skid Grabber are used to move pallets to the rear portion of a trailer to enable forklift access. They features self-cleaning heads that are not affected by grease, paint, or particles. This product is NOT made for lifting. Models PAL-12 and PAL-16 have single-scissor action for wider jaw opening. Model PAL-14 can be used to grip both metal and wooden pallets and features cam closing action, which reduces pinch points and provides maximum gripping strength. The included safety handle allows for easy removal and positioning. PAL-14 also has a safety handle that allows for better positioning and removal. PAL-21 and PAL-LP have 1-piece, curved heads that feature integral spurs for gripping pallet stringers.
---
Product Details
Construction: This series features rugged steel construction. The heads of each unit are self-cleaning and are not affected by grease, paint, or wood particles.
Size: This unit is available with jaw heights ranging from 1-1/2" to 2-3/4" and jaw openings ranging from 3" to 7".
Color: Units come with Beacon yellow, orange, grey, or steel finish.
Weight: These units are available in a variety of weights ranging from 14 to 25 lbs.
Capacity: Models come with capacities of either 5,000 or 6,000 lbs.
Options: Pallet Pullers available options are 20' or 40' of 1/4" chain, complete with grab hooks.
Surcharge: Tariffs or surcharges may apply to current published pricing.
---
Pallet Pullers - BPAL Series

Model#
Description
Pulling Capacity (LBS)
Jaw Height
Jaw Opening
Finish
Price
1) BPAL-12
Single Scissor
5,000
2¾"
7"
Yellow
$81.40
2) BPAL-16
Single Scissor - Heavy Duty
6,000
2"
5"
Orange
$86.43
3) BPAL-14
Cam Action
5,000
1½"
3"
Steel
$101.09
4) BPAL-21
Double Scissor
5,000
2¾"
3"
Yellow
$92.96
5) BPAL-LP
Double Scissor - Low Profile
6,000
2"
3¼"
Grey
$101.09

OPTION

Model#
Description
Pulling Capacity (LBS)
Price
6) BPPC-20
20' of 1/4" Chain with Grab Hooks
6,000
$57.01
7) BPPC-40
40' of 1/4" Chain with Grab Hooks
5,000
$89.29
PROP 65 WARNING
Products on this page may lead to cancer or reproductive harm.
TM
Call Beacon:
800 454-7159