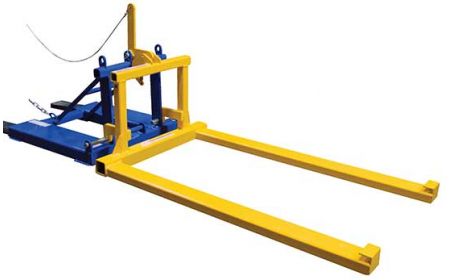 Beacon

®

BPAL-D/R Series

Fork Pallet Dumper enables workers to dump loaded pallets without leaving their fork trucks. The unit slides onto forks and is held in place via a safety chain. Two retainers hold this unit in place during the dumping of the contents. The series is operated in the following manner: When the retainers have cleared the pallet's opposite end, the operator raises the forks. The dumper then will hold the pallet on the forks. The operator then lifts the pallet to the optimum dumping height and then rests the pallet on the dumpster's edge. The operator then pulls the chain, which enables the fork carriage to be released, which allows the pallet to tilt and the load to be dumped. Then the unit is lowered to the ground until the carriage latches.
---
Product Details
Construction: This series features all-welded steel construction.
Size: The series has a 7-1/2" wide x 2-1/2" high fork pocket size, a fork length of 52", and an overall width of 32".
Color: Models are Beacon blue and yellow.
Weight: Units weigh 300 lbs.
Capacity: Fork Pallet Dumper models have a capacity of 2,000 lbs.
Surcharge: Tariffs or surcharges may apply to current published pricing.
---
Fork Pallet Dumper - BPAL-D/R Series

Model#
Fork Pockets (W x H)
Fork Length
Overall Width
Capacity (LBS)
Price
1) BPAL-D/R
7½"x2½"
52"
32"
2,000
$775.83
PROP 65 WARNING
Products on this page may lead to cancer or reproductive harm.
TM
Call Beacon:
800 454-7159