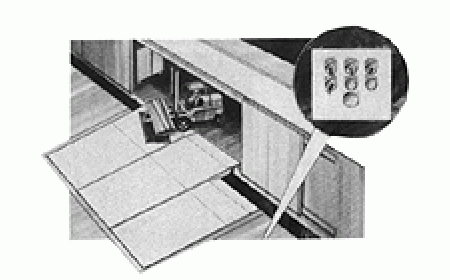 Beacon

®

HSD Series

Beacon® loading Rail Dock Leveler is a push-button-controlled unit that compensates for uneven heights between the railroad car bed and the dock. This Rail Car Loading Leveler assists in railcar loading and unloading.
---
Product Details
Construction: Sold in Bulk.
Size: Side by side deck widths: 6' (one unit), 12' (two units) and 18' (three units).
Service Range: A 42" continuous slide deck lip and full-range toe guards are standard.
Electrical: This Rail Dock Leveler series features a 2-Hp motor, 208/240/440 V 3 phase, 60 HZ. Other electrical options are available as an up-charge.
Note: Size and movements are nominal dimensions.
Operation: Two hydraulic cylinders control the dock equipment and dock ramp vertical deck movement, and a hydraulic cylinder controls the slide deck lip.
Capacities: Models feature capacities ranging from 20,000 to 30,000 lbs.
Standard: The Rail Dock Leveler accomidates the most common standard rail car bed heights, 41" to 46", preferred dock height is 44". The older rail car bed height is 41". Refrigerated rail car heights vary from 46" to 52", preferred dock height is 49".
Warranty: Includes a five-year structural, three-year hydraulics and one-year electrical. Extended warranties available.
---
Rail Dock Leveler - HSD Series

Model#
Description
Price
1) HSD260X-20
(72" W x 32" D) (10' actual length) 20,000 lb. rollover capacity
$60,420.00
2) HSD260X-30
(72" W x 32" D) (10' actual length) 30,000 lb. rollover capacity
$71,550.00
3) HSD260X3-20
(217" W x 32" D) (10' actual length) 20,000 lb. rollover capacity
$179,988.00
4) HSD260X3-30
(217" W x 32"D) (10' actual length) 30,000 lb. rollover capacity
$213,415.10